A Syrian-born attorney has made history by becoming the US's first-ever hijab-wearing Superior Court judge.
With much support behind her nomination, many including school board members, community leaders and leaders of the New Jersey Muslim Lawyers Associations all came together to push forward the nomination.
Kahf took her oath during her swearing-in ceremony on Tuesday, March 21, with a copy of the Quran that had been handwritten by her great-grandmother in the late 1800s, according to North Jersey,
In a report by Arab News, she mentioned, "I am proud to represent the Muslim and Arab communities in New Jersey in the US," she said during the ceremony. "I want the younger generation to see that they can practice their religion without fear that they can be who they are. Diversity is our strength, it is not our weakness."
Difficult Past
It was not always easy for Kahf. In fact, some marvel at her tremendous progression despite her difficult past. At the age of 2, Kahf left Syria and migrated to the US. Upon growing up, Kahf has only worked tirelessly to serve people by working with various Islamic institutions and by serving as legal counsel for Wafa House – an organisation that focuses on caring for domestic abuse victims by offering social services and shelter.
Not The Only One
Nadia Kahf is not the only Muslim woman to make some noise in her senior position. In June 2022, Laila Ikram also made history by becoming the first female Muslim judge to site on the Arizona state court. What's more, in January of 2023, Nusrat Chaudhry became the first Muslim woman to serve as a federal judge and was specially chosen by President Joe Biden.
Kahf's work has been well received by many, including the New Jersey chapter of the Council on American-Islamic Relations (CAIR-NJ).
In a statement, CAIR-NJ Executive Director Selaedin Maksut said, "Nadia has long served the Muslim community in New Jersey, and I am honored to have worked under her leadership and guidance here at CAIR-NJ. To see her finally sworn in, a year after her nomination, is nothing short of incredible. "
"Nadia may be the first to wear a hijab on the Superior Court bench in New Jersey, but she certainly won't be the last, insha Allah. She walks on the paths of many firsts before her, and with her accomplishments and vast experiences, she has set the bar high for other Muslim women."
Main Image Credit: Muslim (Twitter)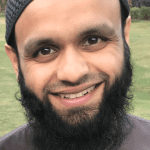 Juber Ahmed is our Digital Editor and travel enthusiast with a keen interest in Islamic history and heritage. He travels with his wife to various places around the world and writes about his experiences.
 
Juber's favourite Quote...
"The World Is a Book and Those Who Do Not Travel Read Only One Page" [Saint Augustine]