On Christmas Day of 2021, a group of passionate Muslim hikers went to the Peak District hills to complete their long-awaited Christmas Day walk. But this was not as easy as they thought. The walk – pictures of which were posted on social media – caught the attention of many and attracted hate. From racial slurs to abusive comments, the team of hikers were not expecting such backlash for what they took part in. 
Fast forward to Christmas Day 2022 and the team were out again walking along the hills of the Peak District. There really is no stopping these young Muslim hikers as they assembled and headed out to be one with nature. Led by tour organiser Haroon Mota, the group covered a distance of 7 miles around Mam Tor in the Peak District on Christmas Day. 
Despite the racial slurs they experienced last year, Haroon and his team did not give up. 
In an interview with the BBC, Mota said, "If it worried me we wouldn't be organising a hike on Christmas Day in the first place. That type of abuse… it's unsurprising, it's problematic and we need to address it, but it's something we're very much used to dealing with now."
He also added, "We just need to carry on with what we set up for in the first place, and that's to create an inclusive place in the outdoors."
The walk has been well received by many from around the country, as it focuses on inclusion, diversity and the outdoors. Many took to Twitter to comment on the walk and raise awareness about how the rural UK needs more diversity.
Inspiring Muslims To Get Outdoors
Founded by Haroon Mota throughout the pandemic, the initiative's main goal is to diversify British landscapes and inspire Muslims to get OUTDOORS. Focusing heavily on inclusion, Mota hopes to bring people together who can relate to one another and through this, build confidence in the minds of young Muslims. 
By being faced with racism and abuse after last year's walk, Mota has become even more determined to get the show on the road and keep on hiking. The dedication and passion have been refreshing for many Muslims, with thousands of people following the initiative's hike on Christmas as well as many more commenting on how proud they are to see such strength and unity. 
Image Credit: Muslim Hikers (Twitter)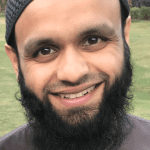 Juber Ahmed is our Digital Editor and travel enthusiast with a keen interest in Islamic history and heritage. He travels with his wife to various places around the world and writes about his experiences.
 
Juber's favourite Quote...
"The World Is a Book and Those Who Do Not Travel Read Only One Page" [Saint Augustine]