In a time when the world comes together to help the victims of the Türkiye and Syria earthquakes, fraudsters and cybercriminals also wake up and begin their scams. Despite thousands of people dying and many left under the rubble and debris, these online scammers will do whatever it takes to exploit the generosity of donors from around the world. 
According to Bit Defender, 'the scammers pose as representatives from a Ukrainian charity foundation that seeks money to help those affected by the natural disasters that struck in the early hours of Monday.'
The scammers will target donors by sending the below email:
"We are launching support the people of Turkey and Syria who have been hit badly with The Ongoing Earthquake, this has displaced many families and children, leaving them homeless.

WLADIMIR FOUNDATION has taken it upon herself to render first hand Aid on ground to help as many people as possible. We are urging you to please donate to Victims"
Using a fictitious Ukrainian-based charity, these scammers target donors with a genuine-looking website. With the Wladimir Charity Foundation already blacklisted last year, many donors are still using the website to donate to the Türkiye and Syria earthquakes. 
Initially created for the victims in Ukraine, one of the BTC crypto wallets shows transactions of $100,000 as far back as May 2021. 
With many misleading emails being sent to many people from around the world, the fictitious charity is taking advantage of the tragic feelings of many after an immense natural disaster. This is why it is extremely important to be attentive and watchful when donating to any charity. 
How Do I Stay Vigilant?
There are a few things to look out for when you receive an email asking to donate money. If the email looks unofficial in any way whatsoever, delete it. If the charity is using crypto wallets, that is another sign that this may be a scam. In any case, it is better to reach out to a charity by visiting their website if you wish to donate. 
The recommended advice is to donate to charities and organisations that are trusted, reliable and come highly recommended.
If you have a charity in mind, you could check on the government website to see if it is registered. You can do this by clicking here: https://www.gov.uk/find-charity-information
Main Image Credit: Prevention Web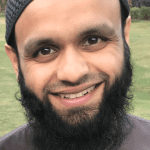 Juber Ahmed is our Digital Editor and travel enthusiast with a keen interest in Islamic history and heritage. He travels with his wife to various places around the world and writes about his experiences.
 
Juber's favourite Quote...
"The World Is a Book and Those Who Do Not Travel Read Only One Page" [Saint Augustine]