Hailing from Maharastra, Dr Mariam Afifa Ansari has become the first female Muslim neurosurgeon in India. According to other reports, she is also the youngest to qualify with such a title in the country.
Since Dr Ansari was a child, her dream was to help others by serving as a doctor. Many years later, this dream has become a reality for her and her proud mother. But this of course is not the end of the road.
"Now I have become Dr. Afifa from Miss Afifa, and my dream of wearing a white coat and examining patients with a stethoscope has come true. My success is a gift from Allah and now a responsibility," she told ANI.  
As a child, Dr Ansari excelled in almost every field. What's more, despite the many challenges Muslim women have faced in India, it is remarkable that she was able to reach such heights in the field. 
The 27-year-old has accomplished a great deal as she qualifies to practise in a profession that is known to be the most challenging in the medical field. Upon completing her MBBS (Bachelor of Medicine, Bachelor of Surgery), she went on to graduate with a masters degree in general surgery. Soon after, she also completed postgraduate training (MRCS) at the Royal College of Surgeons of England, before undertaking a Diploma of National Board course in her native India. Thanks to her superb scores, Dr Ansari was awarded a scholarship to study an MCh (Master of Surgery) at Osmania Medical College in Hyderabad. 
With the hope to inspire other young Muslim girls in India, she said, "Don't give up, never let anyone tell you that you can't do it; prove them wrong by getting it."
Excelling in the medical field is not Dr Ansari's only speciality. The young doctor is also skilled in calligraphy, and painting and also spends her time teaching Islam. Raised by a single mother, the news undoubtedly brought about a great deal of happiness for her mother.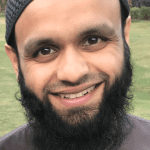 Juber Ahmed is our Digital Editor and travel enthusiast with a keen interest in Islamic history and heritage. He travels with his wife to various places around the world and writes about his experiences.
 
Juber's favourite Quote...
"The World Is a Book and Those Who Do Not Travel Read Only One Page" [Saint Augustine]