To better understand Lonely Planet's recently launched Experience London guide, I joined a one-off walking tour. Led by travel writer Tharik Hussain, the walk was an opportunity to explore the capital with a fresh perspective. Thanks to the new Experience Guides by Lonely Planet, I took to the streets with their guidebook in my hand and found myself inspired by local and personal experiences.
The new and creative Experience Guides are perfect for those looking for a local buddy to show them around. With a fresh and modern approach, the new ' anti-guidebooks' – as has been dubbed by many – allow visitors to immerse themselves and discover the personality of each city. Packed with first-hand experiences by locals, I felt like an excited first-time visitor. The new Experience Guides let you discover behind the scenes by taking visitors away from the mundane tourist trails.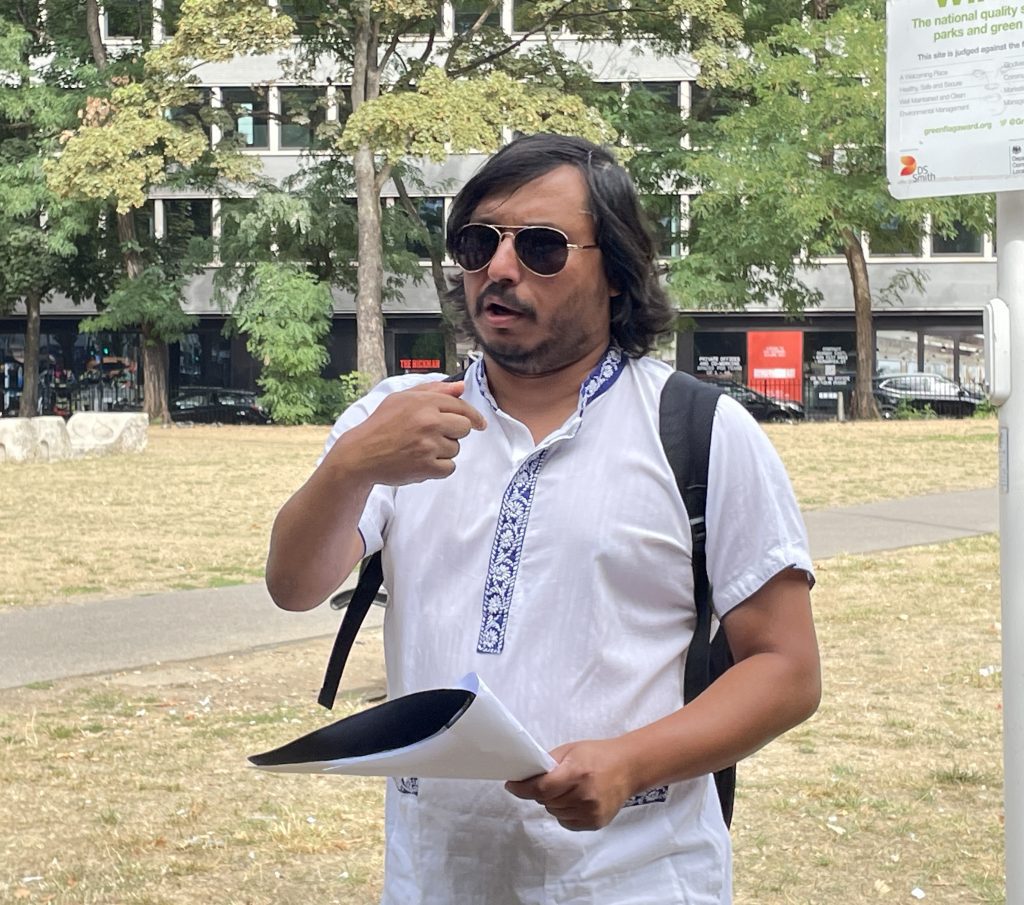 The one-off walking tour was my chance to explore the Bangladeshi Quarter of East London with a local friend. Despite having visited this part of London before, I developed a newfound appreciation for the place and its people. With Hussain's remarkable commentary, we walked through the pumping Columbia Road Flower Market and visited the historic Brick Lane Mosque. Finally, to end the tour, we dined at one of Tharik's favourite Bangladeshi restaurants.
Touring Brick Lane this way awakened my senses as it transported me to simpler times. We shared personal anecdotes along the way, which included offering insider tips. From East End florists to fine murals of Brick Lane, we were surprised by the richly layered history of East London.
East London Trail
Whilst the Experience London guide is filled with trails and recommendations throughout the entirety of London, we specifically explored East London to give you an idea of what you can expect from this new approach. With seasonal planning calendars and destination trip builders, the guidebooks simplify tourism for visitors. Don't worry about getting lost or bored, as these guides come equipped with city maps, infographics and fun itineraries!
Grab a Bargain at the Columbia Road Flower Market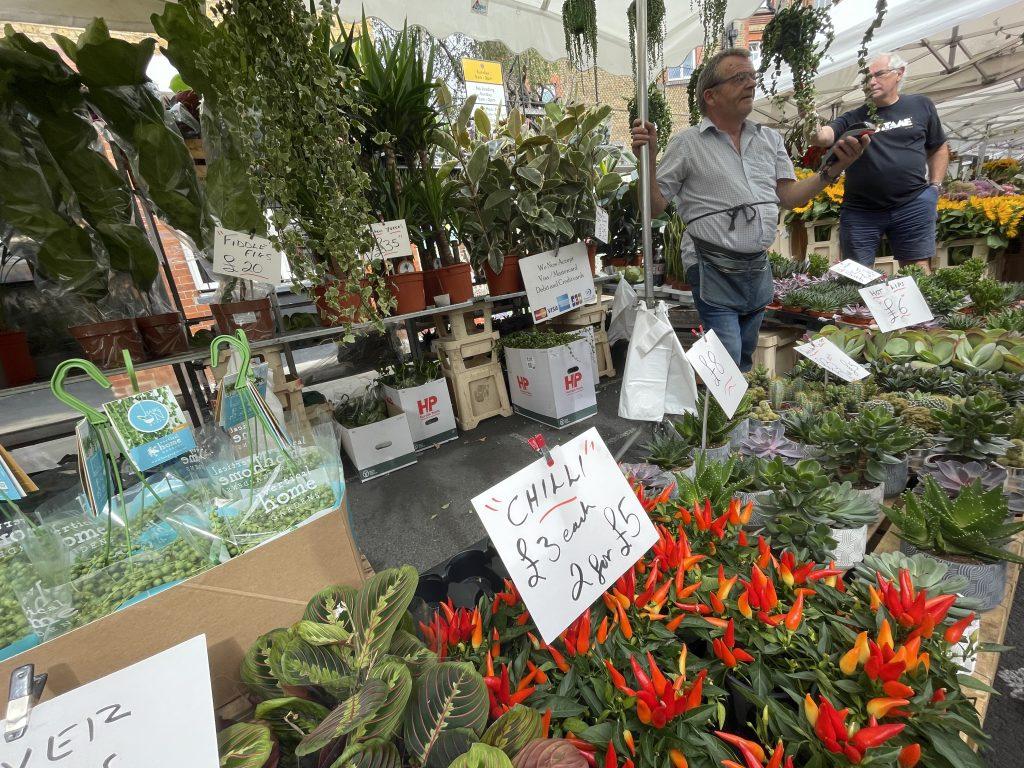 Start by making a visit to the Columbia Road Flower Market. Famous for its many bustling markets, the East End of London has been attracting locals and tourists for decades. The most visited of all these markets is the Columbia Road Flower Market (Sundays 8 am – 2 pm). Here, you'll find friendly and vibrant Eastenders yelling their wares! On the one hand, you'll find antique and coffee shops as well as a diverse range of plants. From snake plants to prayer plants, this place is filled with any plant you can think of! For bargain hunters, the Columbia Road Flower Market is a great place to pick up extremely inexpensive plants. From £5 cactuses to £3 chilli plants, you really won't find a better price elsewhere.
Marvel at the Murals of Brick Lane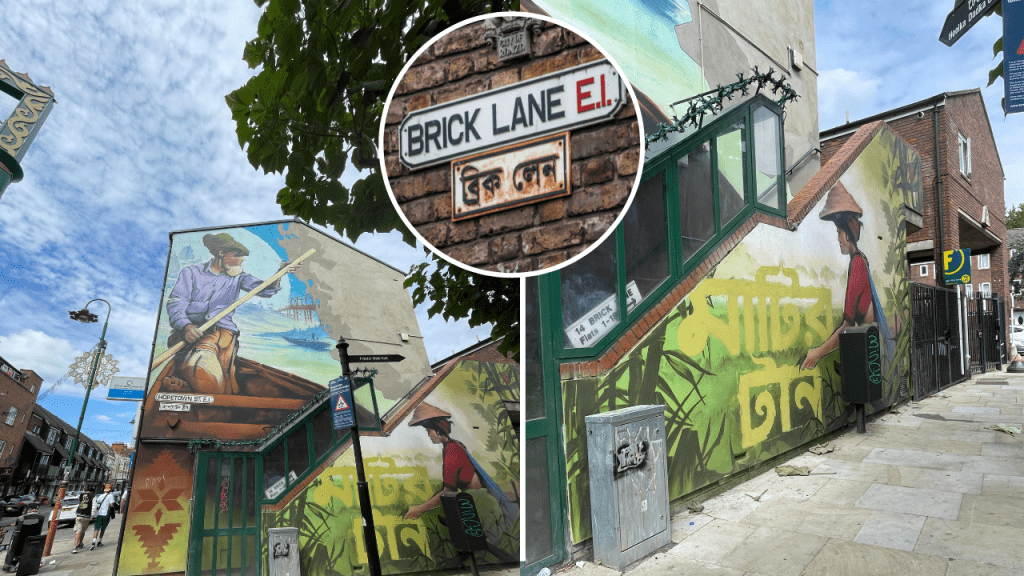 Brick Lane Sunday Market is undeniably the bustling heart of Muslim London and a place of diverse voices! Referred to as Bangla Town by many, you'll find many street signs in Bengali and lampposts painted in red and green – the colors of the flag of Bangladesh. Did you know that in the 1950s – 1980s, the area was home to a flea market featuring snakes, monkeys, and caged birds? Flea market stalls and shops were mainly owned by the thriving Jewish community – a phenomenon which later influenced migrant life. For the many migrant Bangladeshis, the flea market was an important centre, as they would often end up employed by the many Jewish vendors at a time when Bangladeshis faced racial abuse.
Fast-forward to the present day and one will see that Brick Lane has transformed into a trendy and funky place. What's more, its the ideal spot to sample some of London's mouthwatering street food. Home to the largest halal food market in the East End, Brick Lane is also a great place to buy second-hand goods as well as marvel at some of the fine murals painted by renowned artists such as Mohammed Ali Aerosol.
Explore the Heritage of Brick Lane Mosque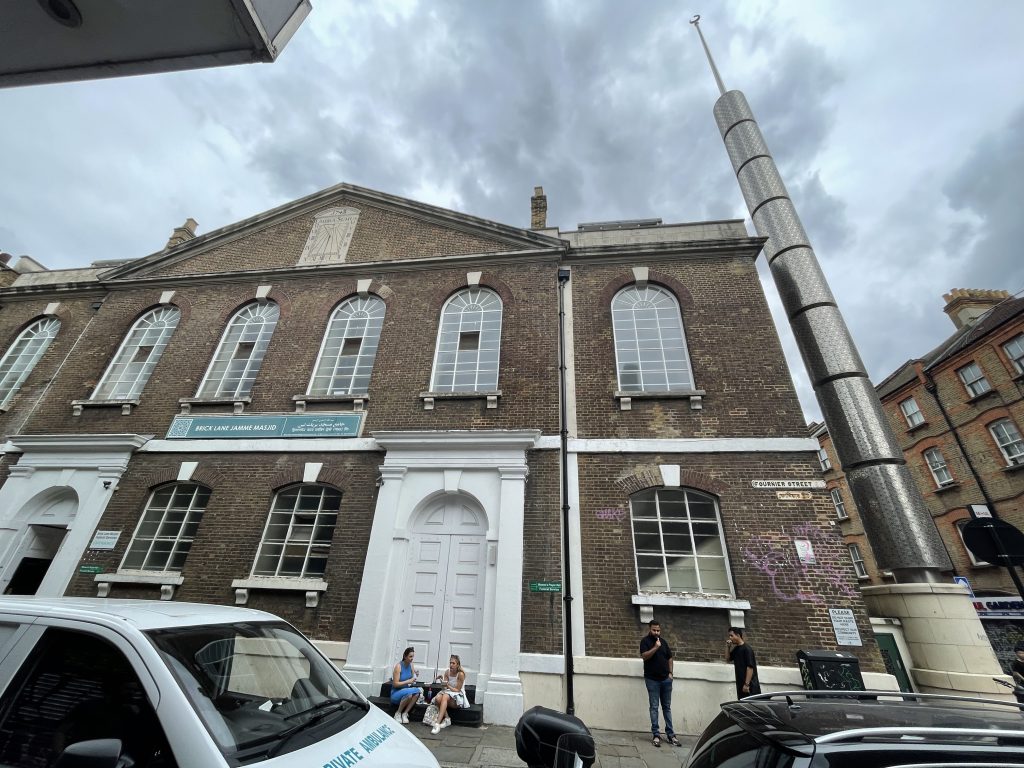 As you head down Brick Lane, you'll come across a historic building which is now home to Brick Lane Mosque. The remarkable building started as a church in 1743, became a synagogue in 1891 and has functioned as a mosque since 1976. The standout feature of the mosque has to be its unique minaret. At the heart of Brick Lane, this trendy and modern minaret stands with pride beside the Brick Lane Mosque, adding a glow to the ever-growing vibrant community that surrounds it.
Spice Up Your Game at Graam Bangla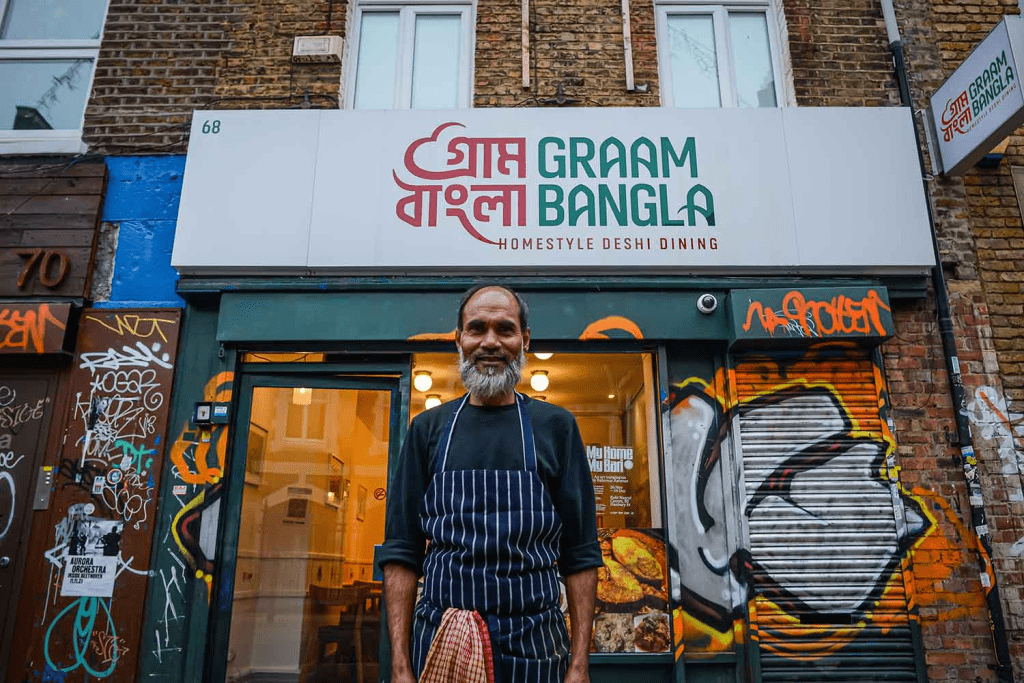 To sample some of the best Bangladeshi food, head over to Graam Bangla. Sitting across from the Brick Lane Mosque, here you'll be welcomed by a friendly owner and the most kind-hearted cooks. Forget what you think you already know about Bangladeshi food – the food at Graam Bangla will awaken your tastebuds as it serves authentic Sylheti food. Whilst many locals visit at least once a week, the restaurant also gets many curious folks walking through their doors, eager to try new cuisine. Don't worry if you don't know anything about Bangladeshi food, as the owner will gladly answer any questions!
Learn About the City's Horrific History at Altab Ali Park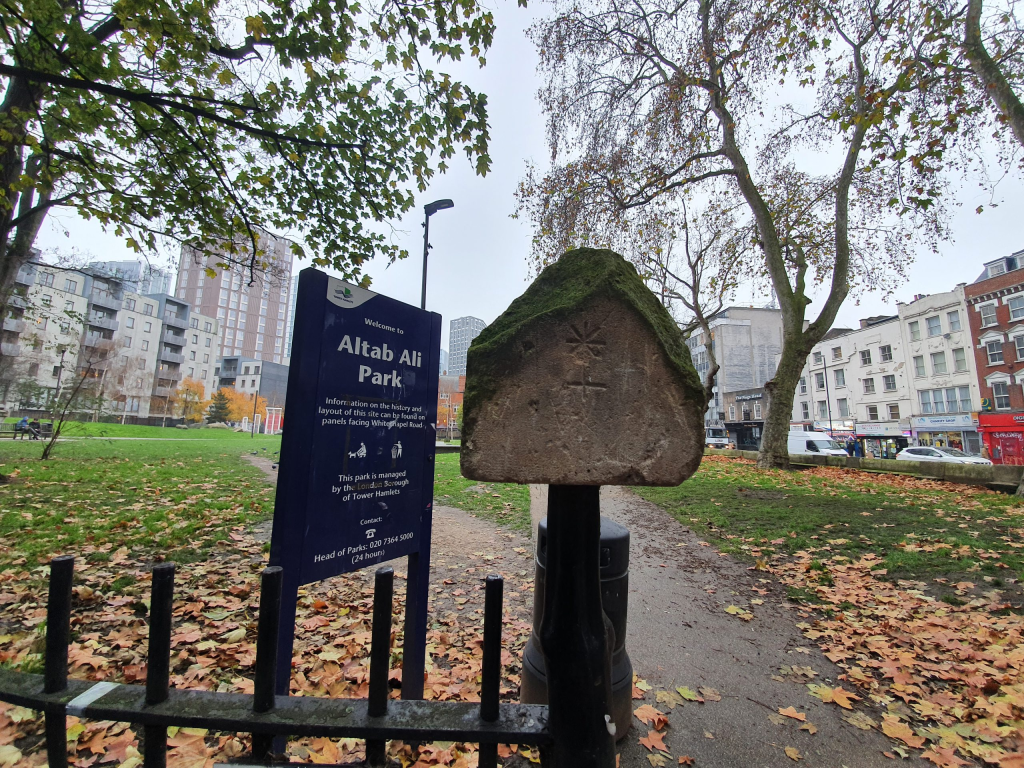 Located on Whitechapel Road – a short distance from Bangla Town – the Altab Ali Park has somewhat of a dark history. It was nearby to the park where the Sylheti clothing worker named Altab Ali was brutally murdered by three teenage boys in 1978. This attack sparked a huge uproar and became the reason why many fought back against the fascists at the time. With a memorial arch at the entrance of the park and the Shaheed Minar at the Southwest corner of the park, the park has many stories to tell. Although the park has become a trendy spot to kick back and relax, it always reminds the locals of the bloody event which became a catalyst for unity, strength, and intolerance of xenophobia.
Why Buy the New Experience Guides
So, why do we recommend using the Experience Guides? Well, for starters, it gives you the chance to get off the beaten path, allowing you to appreciate the finer details of each city. What's more, with first-hand recommendations from local writers, you'll be exposed to some of the hidden gems within the city. With the Experience Guides, visitors will seldom feel alone, as the book acts as a local buddy that guides you through city trails.
The Experience Guides have gone above and beyond in enhancing what it means to use a guidebook. With QR codes, image galleries, travel tips and pull-out city maps, the new guides will undoubtedly maximize your tour experience.
Main Image Credit: Gleren Meneghin (Unsplash)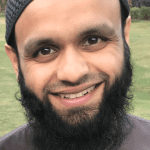 Juber Ahmed is our Digital Editor and travel enthusiast with a keen interest in Islamic history and heritage. He travels with his wife to various places around the world and writes about his experiences.
 
Juber's favourite Quote...
"The World Is a Book and Those Who Do Not Travel Read Only One Page" [Saint Augustine]