As members of the Muslim community continue to fast during the final days of Ramadan, Uber Eats is today launching 'Sundown Spots' – a series of pop-up restaurants offering free iftar meals after sundown – to support the hardworking delivery drivers and couriers working throughout Ramadan and keeping the nation fed.
The 'Sundown Spots' series comes in response to new research commissioned by the food delivery service to better understand the experience of UK Muslims who are participating in Ramadan. The findings revealed that 93% of those surveyed think that there should be more initiatives in place by brands and companies in the UK to raise awareness of Ramadan.
Running from 25th – 27th April, the 'Sundown Spots' will offer Uber Eats' community of couriers and drivers an iftar dine-in experience, as well as a complimentary takeaway service for the wider community of delivery drivers that are observing Ramadan – regardless of which food delivery service they deliver with.
The first 'Sundown Spot' opens its doors on Monday 25th April at the food delivery services Halal partner restaurant Ayam Zaman in Shepherd's Bush, London, and will be followed by takeovers at MyLahore restaurants in Manchester and Birmingham.
BAFTA-nominated Muslim TV chef, Zuhair Hassan, known to many as Big Zuu, has also lent his support to the initiative, developing a signature dish, 'Big Zuu's Big Grill' with the resident chefs at Ayam Zaman and will be on hand at the launch night too, serving meals and greeting diners.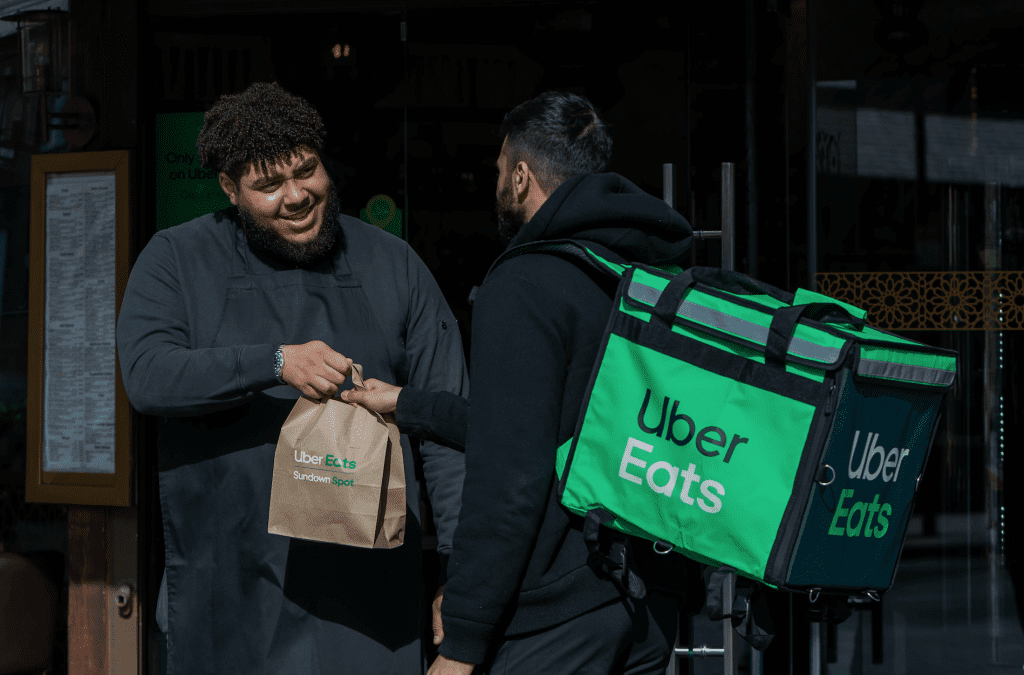 Big Zuu comments: "For me, Ramadan is a time to reset and reflect. Iftar is my favourite part of Ramadan, it feels like a pinnacle moment…you take a step back, realise where you are now, and where you're meant to be heading…so I'm pleased to be partnering with Uber Eats on an initiative that is celebrating the significance of this moment. It's so important that Muslims are represented and feel seen and heard in modern Britain, not least during the most sacred month in the Islamic calendar, so it's great to be able to highlight the fantastic food our culture has to offer.
"When it comes to opening fast, I'll eat most things (apart from pork, of course!), sometimes I'll cook but often I'll treat myself to a meal out or takeaway, and when it's time to celebrate Eid, for me that's also centred around food – a nice dinner, surrounded by my closest friends or family. It's important to remember that some people don't always have family to cook for them, so food delivery services with Halal options like Uber Eats are really key to facilitating iftar for many fasters."
Matthew Price, General Manager Uber Eats UK & Ireland, said: "Our Sundown Spots have been created to help facilitate opening fast for the many food delivery drivers and couriers observing Ramadan – and to recognise everything they are doing to keep the nation fed whilst fasting from dawn to sunset. We're proud to be able to show our support with this initiative and it's our ambition to build on it next year – and reach even more people who continue to 'Bring It' throughout Ramadan."
Ramadan is also a month for giving, so for every Halal meal ordered on Uber Eats throughout the holy month, the food ordering platform will donate a Halal meal to its food distribution charity partner, City Harvest, which works with a number of local Muslim charities and food banks, to ensure that as many people as possible are well-nourished during Ramadan and beyond.
New research from Uber Eats
Almost half (48%) ​​agreed that while their company does take some measures to support the Muslim community during Ramadan – with 64 per cent agreeing that their organisation encourages open and honest conversations with their peers about their religion and its practices – they felt that more could be done to better support Muslims. When asked about what kind of company initiatives would be most appreciated during Ramadan, the top five results were:
More flexibility (56%)
Early finish (55%)
Working from home (45%)
More frequent breaks throughout the day (41%)
Later start time (35%)
Encouragingly, half of those surveyed (48%) feel their peers had a fair understanding of what Ramadan is and entails, while 43% have even enjoyed fasting with non-Muslim peers.
Uber Eats is also offering 50% off all first-time grocery orders placed throughout Ramadan, with the code SUNDOWN50, for those hosting iftar dinners at home.