Global cross-border payments company WorldRemit has teamed up with well-known Muslim illustrator Natasha Ahmed to depict some of the various traditions of celebrating Ramadan around the world.
The holy month of Ramadan is one of the most eagerly anticipated events in the Muslim calendar and marks a huge celebration of faith, culture and history. With over one billion people observing Ramadan across the globe, different cultures have introduced their traditions as part of the celebrations.
Chaand Raat – Pakistan and India
Translated to 'Night of the Moon', Chaand Raat is a night of celebration that signifies the end of Ramadan with the first sighting of the new moon. A vibrant tradition in South Asian countries including Pakistan, India and Bangladesh, Chaand Raat celebrates the beginning of the new month and the festival of Eid al-Fitr.

Zakat – Nigeria
The third pillar of Islam, Zakat signifies the importance of charity as a way of purifying one's wealth and soul. Such charitable acts are prevalent throughout Ramadan and although this practice is not exclusive to Nigeria, it has a really positive impact in the African country, which has one of the biggest Muslim communities in the world.
Chawk Bazar – Bangladesh
When it is time for Iftar each day, Muslims come together to break their fast. In Dhaka, the capital city of Bangladesh, there is a gathering of street food vendors on Chawk Bazar, which has become the go-to destination for Muslims in the area looking to celebrate the end of their daily fast with their families. Chawk Bazar has been around for over 400 years and remains a cultural hub for Bangladeshis to this day.
Henna decorations – Somalia
Whilst this is seen throughout the Muslim community around the world, a popular tradition among Somali women is to come together to celebrate Eid through decorating their hands with beautiful henna artwork. Henna has been around for centuries and women tend to wear these intricate designs from their hands to their elbows in celebration of Eid, as well as other notable events such as weddings.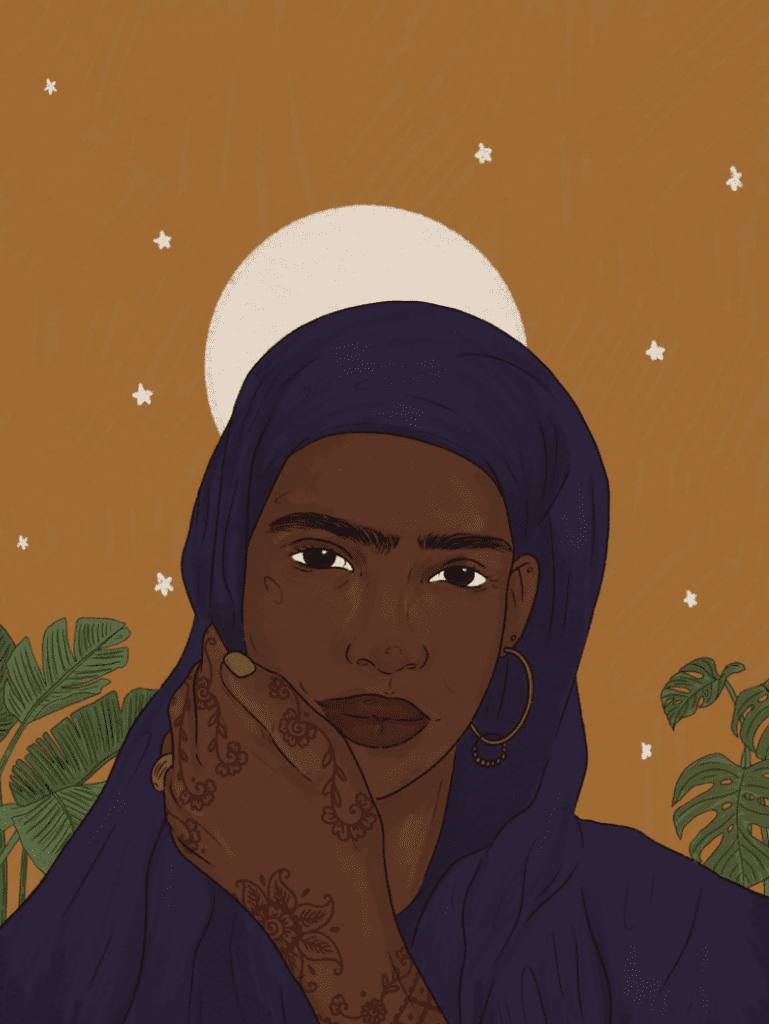 Ritual of the Neffar– Morocco
A popular tradition in Morocco, among other countries, is the morning routine of the local town Neffar (Crier)6 walking down the street at sunrise blowing a horn to wake people up and signify Suhoor (the morning meal prior to the start of fasting). This starts each new day within the month of Ramadan.

Cleansing ritual (Padusan) – Indonesia
Padusan is a purifying tradition in which Muslim women in Indonesia bathe in springs to cleanse their bodies before the month of Ramadan begins. Springs are believed to possess great spiritual significance and are a vital part of purification before the holy month starts7.

Moon watchers mark Eid-al-Fitr – South Africa
Although the sighting of the new moon to signify both the start and the end of Ramadan is observed throughout the whole Islamic community, in South Africa Muslims wait for Maan Kykers8 (moon watchers) to confirm the sighting of the new moon, bringing an end to the holy month and starting the celebration of Eid-al-Fitr.

Drummers announce Suhoor – Turkey
In Turkey, in a tradition dating back to the Ottoman era, Suhoor is ushered in by drummers8 decked in traditional attire. Drummers fill the streets around the country waking residents and celebrating the start of a new day throughout the holy month.

Lighting Fanous – Egypt
Lighting Fanous (colourful lanterns)9 in celebration of Ramadan is a tradition with its roots in Egypt but has since expanded to other countries. These lanterns, which are often made from a combination of metal and glass and are crafted with care, lace the streets throughout the month of Ramadan, with their bright colours making them one of the most beautiful traditions in the world.

Mheibes – Iraq
Mheibes10 is a game played throughout Iraq during Ramadan where large groups of men team up to play a game where they must find a hidden ring amongst the group. The tradition is to sing 'Baghdadi songs' whilst playing this game, with both teams having up to 50 players each as a fun activity designed to bring the community together throughout Ramadan.

Cannons Fire – Lebanon
This is a tradition that is thought to have originated in Egypt over 200 years ago, but remains a popular tradition in a lot of Muslim countries including Bangladesh, the UAE and Lebanon. The Cannon is fired daily throughout the month of Ramadan to signify Iftar, which is the meal that marks the end of fasting for that day11.
Natasha commented: "Ramadan is a joyous occasion and the opportunity to celebrate years of Muslim culture. It is enjoyed by millions worldwide and it's fantastic to see so many different traditions practiced, with everyone's experience being slightly different.

"This artwork really brings the diversity and inclusivity of Ramadan to life and fills me with pride when visualising how Muslims from all corners of the world come together in harmony, whilst also upholding and respecting traditions that may be more unique to them."
A spokesperson from WorldRemit added: "Ramadan is such a special time of year for the Islamic community and allows everyone to celebrate their faith with family and friends closer to home, whilst also allowing them to connect to others further afield.
"As a global organisation, WorldRemit has always had a deep connection with the Muslim community, from our diverse staff with whom we work daily, to customers around the world who use our services to make fast and safe international payments.
"It's amazing to learn about the different Ramadan traditions practiced by Muslims around the world. These pieces of art illustrate them beautifully, really capturing what it means to everyone practicing Islam."
For more details, visit WorldRemit