Khazana, Saliha Mahmood Ahmed
This gently spiced aubergine raita dish is wonderful served alongside warm flatbreads. You can use
the bread to scoop up the soft aubergines and sweet, spiced yoghurt.
SERVES 4
1 large aubergine, cut into 5mm slices
75ml olive oil, plus extra for brushing
1⁄2 teaspoon ground turmeric
200g natural yoghurt, at room temperature
1 tablespoon honey
2 garlic cloves, thinly sliced
1 teaspoon cumin seeds
1 red chilli, finely diced
2 tablespoons finely chopped fresh coriander
2 tablespoons thinly sliced fresh mint leaves
Handful of pomegranate seeds Salt, to taste
Liberally brush each aubergine slice with olive oil until they are coated all over. Now sprinkle turmeric and a good pinch of salt over the aubergines so that all the aubergines have taken on the vibrant yellow of the turmeric.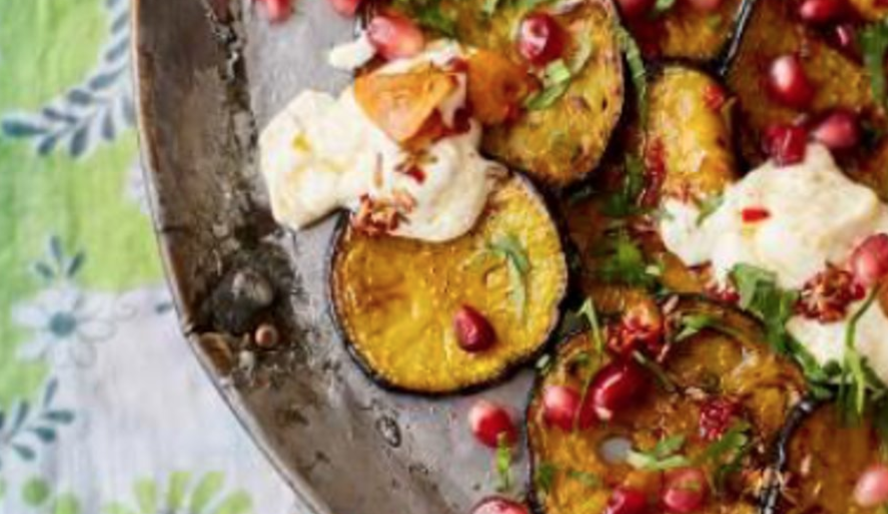 Place a large non-stick pan over a medium-high heat and fry the aubergine slices in batches for about 4–5 minutes on each side. They should be completely soft and caramelised on both sides. Arrange the aubergines in a single layer on a large flat platter.
Put the yoghurt and honey into a bowl and whisk with a fork until smooth. Season to taste with salt.
Pour the 75ml olive oil into a frying pan and place over a high heat; when it is very hot, but not quite smoking, add the garlic, cumin seeds and diced chilli – the garlic and cumin should start colouring very quickly. When they are golden brown, remove from the heat and pour carefully over the yoghurt; stir well.
Drizzle the yoghurt mix over the aubergines and scatter over the coriander, mint and pomegranate seeds.