One Night in Al Aqsa is hitting the screens in Leicester Square. I would describe this docu-movie as a sequel to Abrar Hussain's sequel to One Day in the Haram and has, yet again, exceeded expectations. A common misconception is that The Dome of The Rock is usually perceived to be Al Aqsa, but that is not the case.
The movie starts by explaining the story and the important institutions of Jerusalem, capturing stunning aerial and close up shots of The Al Aqsa compound, and includes an in-depth insight of the significance of Al Aqsa to both Muslims and Non Muslims. We also get to see the governance of 'The Waqf Trust', who endlessly work to maintain and preserve the buildings and their compound.
Then the creativity of King Jordan, who created the Islamic Art, is showcased, as well as Renaissance art in The Dome of The Rock and The Qibli mosque being explored.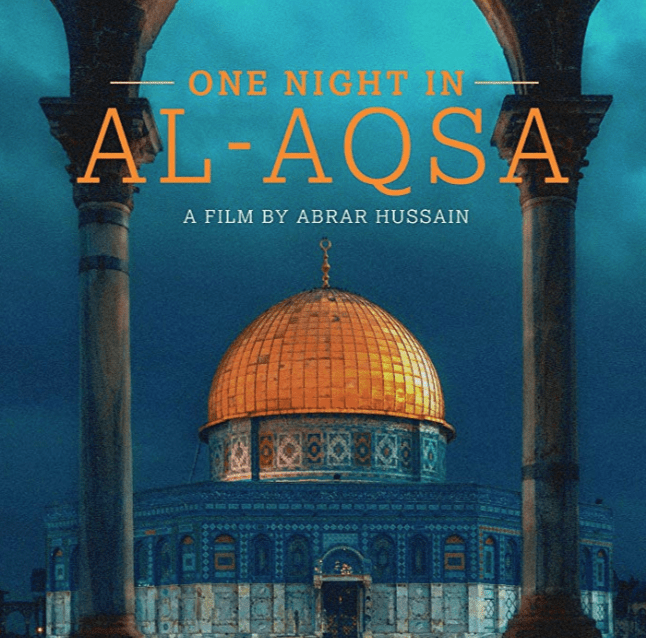 An interesting versatility that stood out for me was The Imam conducting a prayer from the pulpit, as is recognised in the Christian Faith. It is a profound combination of the era of Prophet Abraham, Isa and Mohammed (pbuh). The metaphysical architecture expresses how everything has significance, from The Surat Yasin displayed on the wall tiles, to the eight angels holding the throne of Allah and the fifty-two windows representing the fifty-two weeks of the year. The film also shows how the site is revered by Christian and Jewish faiths, with a focus on the Church of the Holy Sepulcher and The Western Wall.
It then goes on to explain the importance of The Holy Night of Ramadan and how much work takes place to accommodate visitors for the night, the challenges of Israeli occupation and the ongoing heart-breaking treatment of the Palestinian visitors, but also shows the united spiritual tranquility that the night has on everyone, despite the chaos and challenges of making it through.
The Director Abrar says, "It's been a great honour to direct this film, but also a great responsibility. I believe films are one of the catalysts that can open up new discussions and viewpoints. I want to show the world a side of Islam that hasn't been seen before and add something positive to the understanding of one of the most significant historical institutions".
It was the hottest day of the year and we just about made it in the scorching heat, but it was well worth the visit. My catholic friend said she was completely mesmerised and wants to visit the site with her family.
The film is being shown nationwide at different locations from the 2nd August 2019, OUT NOW!
Any funds raised will go to building Penny Appeals project to develop Makkasad Charitable Hospital in East Jerusalem, developing the radiology and neo natal units by providing life saving equipment such as incubators for babies.
This docu-film is definitely 'an eye opening insight into the trials, tribulations and rewards of Jerusalem' ****
By Tahira Khan
Check out the trailer below: