Bushra Shaikh, 34, says life has been incredibly busy since she finished filming BBC's 2017 Apprentice series. She's just been to the Asian Awards in London, returned from Birmingham where she had been speaking to a Muslim Women's Empowerment Group, and says her luxury fashion company 'the iiLA collection' is going from strength to strength.
"First and foremost, I'm a mother, a woman and a Muslim …and now is my time! I applied to go on The Apprentice as a whim; I didn't tell anyone, I just applied one night in a few minutes. I applied with one focus only; that of getting the investment from Lord Sugar for my fashion business. I'd almost forgotten I'd applied when I got an email asking me to come to an audition 2 days later!
"It was tough being away from my children for so many weeks – Anna Sofia, 7, Zayd, 9, and Jibran, 11 – and we were only allowed one 10 minute call home each week! My mother-in-law came to help and it was an amazing opportunity. One of the best things was being with so many diverse people, as I'd never lived with anyone apart from family before."
During the Apprentice series, Bushra had a long running enmity with wildcard Elizabeth, but she did well surviving 9 weeks before being taken back to the boardroom after the food box challenge. "I was gutted when Lord Sugar fired me; it was really sudden as I'd never been in the boardroom before, so it felt unfair, but my team members were looking for someone to pounce on. Still I was pleased I'd lasted so long and Lord Sugar sent me nice messages on Twitter saying how good my business looked!"
"A lot has happened over the last few months – I got loads of media attention and it was a fantastic experience for me. Bushra says she was overwhelmed with the response she got from the Muslim community when she was fired, "I was on TV for a few weeks and people seemed to connect with me so much. I got a lot of messages from people saying how sad they were and how much they had wanted me to win!"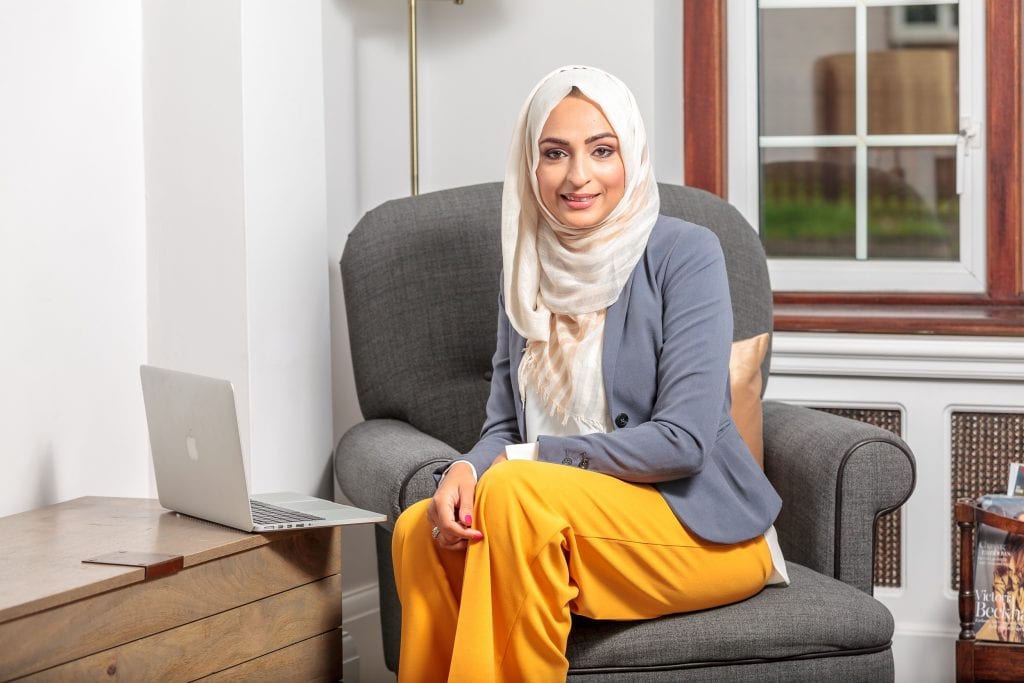 Since 2006, Bushra has been a Muslim Aid supporter after she went to an event and pledged £10,000 to the charity. To raise the money, she and a friend decided to have a stall outside the Regents Park mosque and other places selling hijabs and they gave 50% of the profits to Muslim Aid. "I'm delighted to be taking part in this Ramadan campaign as I've wanted to get more closely involved with the charity for some time.
"Ramadan is a busy time in our house with a large family, but I love cooking and am looking forward to planning some big iftar meals. Most importantly though Ramadan is a time to think about other families, not just our own. We can make our Zakat really count by supporting Muslim Aid's important projects; from the life-saving work with new-born babies in Gaza to the food vouchers for Syrian families that have been displaced within the country and in refugee camps in Lebanon and Jordan.
"This Summer I am hoping that we will take our family to Palestine, as I really want my children to see how others live and it's important that they know that not everyone in the world has what they have."
The future is looking bright for Bushra; since coming out of The Apprentice she has had lots of opportunities and it's likely that we will see her on our TV screen again in Autumn 2018. Her 5 year plan is to grow her fashion label iiLA globally, continuing online but having one flagship store in central London. "I wish everyone a good Ramadan and hope you will join with me in making your Zakat really count by supporting Muslim Aid's amazing work."
To make your Zakat count this Ramadan please visit www.muslimaid.org