For Muslims, Eid al-Fitr marks the end of the fasting month of Ramadan.  Sadiq Khan put on an amazing celebration for Eid in the middle of London's Trafalgar Square in London over the weekend. He said, this eid was "harder than any" he can remember, after the capital was afflicted by a spate of tragedies.
Speaking at an Eid celebration in Trafalgar Square, the Muslim Mayor of London gave a message of unity in the wake of two terror attacks and the Grenfell Tower fire.
"This Ramadan was harder than any Ramadan I can remember, not simply because of the long 19 to 20-hour fast, but because unfortunately in this holy month of Ramadan, we saw the terror attacks on London Bridge and Borough Market' – Sadiq Khan.
"We saw the terror attack on Finsbury Park and we saw the awful, awful horror of the fire at Grenfell Tower. – Sadiq Khan.
"I am sure that all of us have in our thoughts and prayers all those affected by the terror attacks and by the fire. – Sadiq Khan.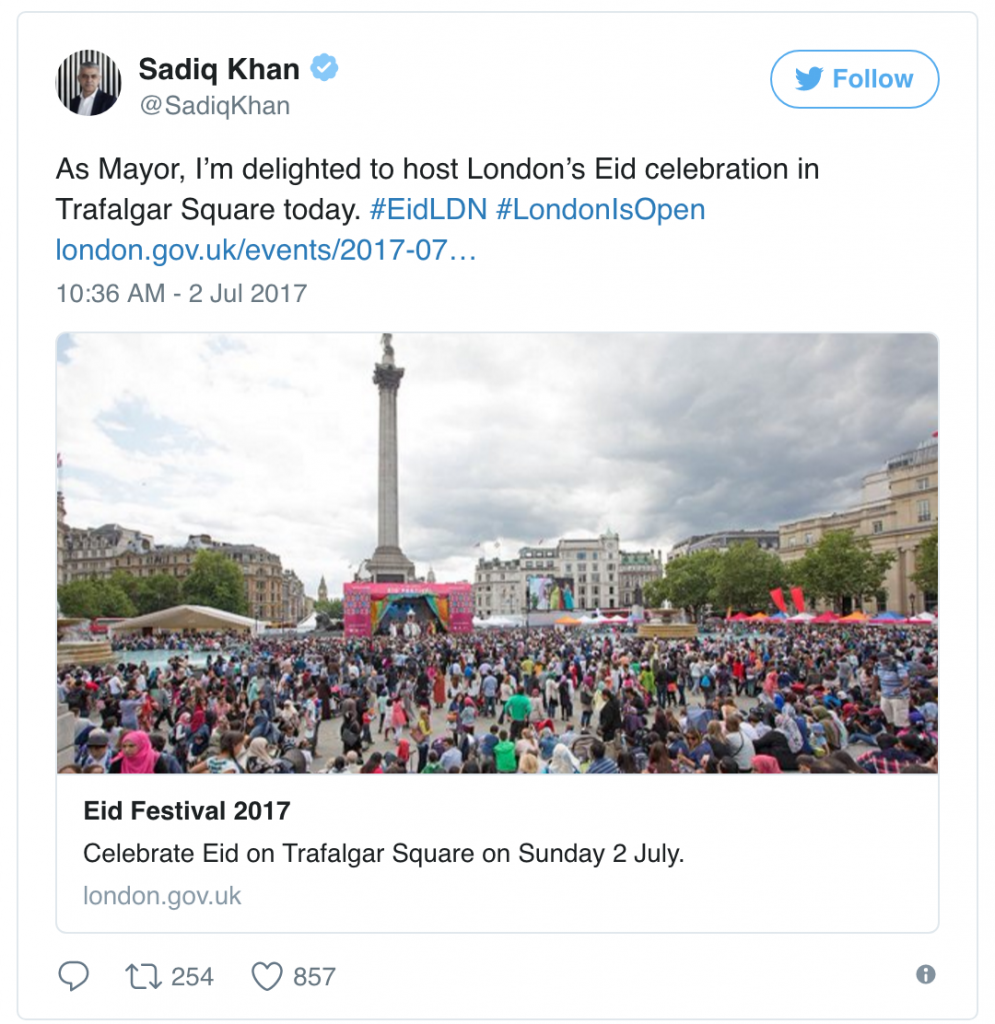 Sadiq Khan ensured London muslim communities that this year the celebration's will be safe and that's exactly what he made sure of.
The entertainment throughout the day was amazing, from Harris J, nasheed singer Saif Adam to Cheb Nacim,  Syrian kanun player Maya Youssaf, Rasha,  to Omar Sammur – it was a star studded family day out and the weather was definitely on Sadiq's side.
The cookery theatre was managed and presented by the London Halal food festival team who will be hosting a food festival at Tobacco Docks on the 19th and 20th August 2017. Grab your tickets today!