Located in UNESCO listed Medina world heritage site, La Sultana Marrakech celebrates the 100 year anniversary of the discovery of the Saadian Mausoleum (1917-2017) located few meters from the hotel entrance with an exclusive private visit.
At this occasion, we take a plunge into La Sultana Marrakech own history that echoes to Moroccan great Royal History.
Once upon a time in the days of the Almohad dynasty (12th century), where La Sultana Marrakech is today, a granary supplies the royal family and the court of the Calife Yacoub El Mansour. The Calife just completed the Koutoubia and plans to add a Royal Kasbah to the city with access through the Bab Agnaou archway.
As a nod to this granary and the brick usage at that time, La Sultana Marrakech used the brick as the main material in the architecture of the Almohad patio.
In the 16th century, Marrakech undergo notable architectural achievements near La Sultana, under the Saadian rulers (1510-1669) when the El Badi Palace and the Saadian tombs were built. This dynasty has been a source of inspiration at large at La Sultana Marrakech with similar Moorish design in tiles patterns of the Saadian patio and white plaster work.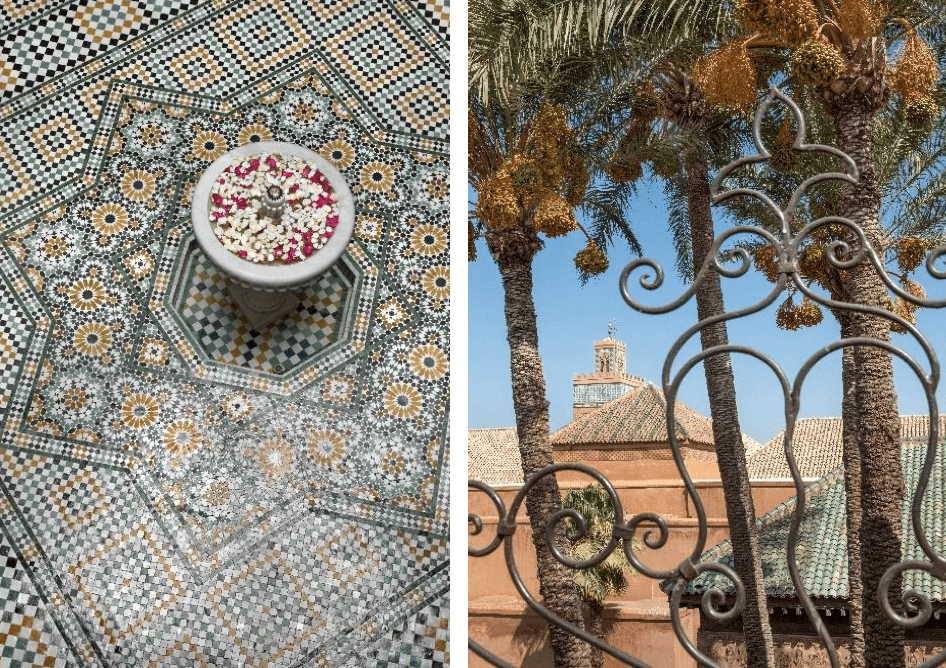 The Alaouite dynasty takes over in the 18th century with the Sultan Moulay Ismael dismantling the Badi palace to make a greater palace and decided to walled the Saadian tombs to see it fall into obscurity for hundreds of years.
The secret remained closely guarded until aerial photography exposed them in 1917. Today this monument is visible from above from the grand rooftop of La Sultana Marrakech.
At the end of the 19th century, the building corresponding to La Sultana Marrakech today was handed down to a former palace worker, Caïd Azzi Boujemaa as a gift for his devotion and loyalty to the dynasty. During the French protectorate, his son lovingly restored many of its original features and the address became synonymous with glamorous society balls and parties with his wife bearing for coquetry a French name Odette.