Half Moons recipe has got to be THE most highly requested video from Anisagrams fans online. It's a crispy fried snack, filled with saucy creamy chicken.
Half Moons are also a very popular Ramadan Recipe and we've asked Anisa to make them for you. So lets get started!
This recipe should make around 12-15 depending on the size of your cutter.
Half Moon Pies Over 1 million views:
Filling Ingredients:
3 Chicken Fillets cut into small pieces
2 tbls Cooking Oil
Salt to taste
Few Green Chillies
Few Cloves of Garlic
Half a Red Pepper chopped
1 Onion chopped
6 tbls Sweetcorn
1 tsp Cumin Powder
Green Coriander for garnishing
White Sauce Ingredients:
1-pint Milk
50g unsalted butter
50g plain flour
1/2 teaspoon black pepper
Optional (white pepper powder or Nutmeg also)
Salt to taste
Dough Mixture Ingredients:
2 Cups Plain Flour
2 tbls Butter
Salt to taste
1 Cup Boiling Water
Dipping Mixture Ingredients:
Some Eggs
Breadcrumbs
Egg and Flour Mixture:
5 tblspn plain flour
Cold Water to make paste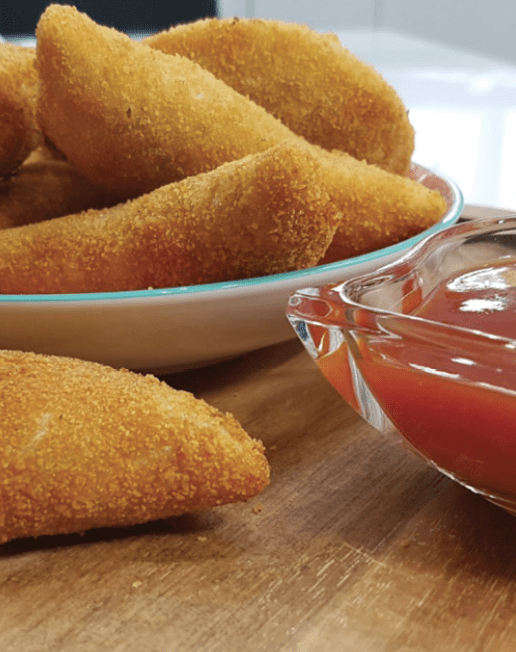 Method
In a pan add oil and saute the onions till nice and soft. Add in the chicken and cook till water has evaporated. Mix in the chillie and garlic paste, corn the peppers ,salt and cumin powder , stir in well. Leave the mixture aside and prepare the white sauce.
To make the white sauce:
In a sauce pan melt butter, add the flour . Braise the flour in for a few mins. Pour in the milk bit by bit and make sure you keep stirring otherwise it will get lumpy. When it comes to a boil and is nice and smooth ,turn the heat off. Sprinkle over the black pepper, and salt to taste. When cool pour over the chicken mixture, and stir in well.
The dough:
In the flour make a well in the middle, rub in the butter ,sprinkle salt and make a soft dough with the hot water. Pour the water in bit by bit, Knead well. If you think its gone too soft add a bit more flour.
Roll the dough into a large circle not so thick. Take a circle cutter and approx 7cm circle or you can use a bigger one and cut out the circles.
Take a tspn of filling and carefully place in the middle . Put the flour paste around the edge of the circle and seal . It will look like a half moon shape.
Take 2 bowls in one beat in the egg and the other put some breadcrumbs . Dip in egg then cover in breadcrumbs.
You can freeze these and shallow fry when needed.
Delicious with tomato chutney.