World Autism Acceptance week runs every year and is normally planned around Autism Acceptance Day (2 April). This year, World Autism Acceptance Week is scheduled to take part from 27 March – 2 April 2023. 
With over 700,000 autistic people in the UK, this year aims to shed light on acceptance rather than awareness. As we already have many autistic people living amidst us, the week will be all about accepting them as part of our society and world. After all, autistic people too should have the same opportunities as the rest of us. 
With a week to raise awareness, educate people and fundraise for charities that support autistic people, it is a time to unite and share a story that very often goes ignored.
Why Is This Week Important?
Through workshops, work and school-based initiatives, virtual events and many sports initiatives, the week-long event will help raise awareness and funds to support the many people living with autism. The week will also highlight the many issues autistic people face on a daily basis, as well as remind us all about why it's important to accept them as a part of our society.
When Did Autism Acceptance Week Begin?
Since 2007, many have worked together to raise awareness about autism by starting Autism Acceptance Week. Coinciding with Autism Acceptance Day on April 2, the running of this special week-long event has not only educated many about the reality of autism but has also cleared many misconceptions and allowed many of us to accept autistic people into our lives and societies. After more than a decade of effort, the world has learnt and grown to see autistic people as equal to the rest of us, which is why the name was changed this year from World Autism Awareness Week to World Autism Acceptance Week.
What To Do Throughout Autism Awareness Week?
Support Those With Autism – you can do this by donating to a charity, fundraising yourself or volunteering your time to support a charity. 
Educate Yourself – with many events in the pipeline for this immense week, as well as many resources online, take time out throughout the week to learn a bit more about autism, how it affects people and how you can do your part. 
What is Autism?
According to the National Autistic Society, Autism is a lifelong developmental disability which affects how people communicate and interact with the world. This includes sights, sounds and changes in their environment. Many autistic people have found that they experience overstimulation or sensory overload, with some even saying that the way they hear sounds is extremely different to someone without autism. Often referred to as the 'invisible disability', sometimes it can be difficult to identify if someone is autistic.
Get Involved
If you're interested in volunteering, fundraising and getting involved, click on the following link to find out more: https://www.autism.org.uk/get-involved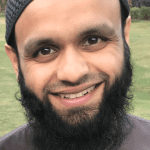 Juber Ahmed is our Digital Editor and travel enthusiast with a keen interest in Islamic history and heritage. He travels with his wife to various places around the world and writes about his experiences.
 
Juber's favourite Quote...
"The World Is a Book and Those Who Do Not Travel Read Only One Page" [Saint Augustine]