Earlier this week, the UK's consumer champion, Which? revealed the name of the cheapest supermarket in the UK. After comparing thousands of products and their prices from eight supermarkets, one retailer topped the list when it came to the cheapest in the UK.
The analysis found that Aldi was the cheapest supermarket in 2022. After comparing the prices of 48 popular grocery items in December 2022, the total cost in Aldi was £81.63.
For seven months in a row, Aldi has been topping the list as the cheapest supermarket in the UK. However, when costs were compared with a larger trolley of 149 items, things were slightly different. In this case, Asda topped the list as the cheapest supermarket in the UK. In fact, Aldi did not even appear in this list as many of the items in the 149 items list were not sold by Aldi or Lidl.
Unsurprisingly, Waitrose was recorded as the most expensive supermarket in both lists. 
Aldi and Lidl on Par With One Another
The analysis by Which? found that Lidl was not off by a huge number when comparing total prices. In fact, in the first five months of 2022, Lidl was recorded as the cheapest supermarket in the UK. With a mix of branded and store-brand items in the basket, Aldi and Lidl did outstandingly when it came to offering the cheapest prices last year.
Inflation and Increases
Whilst Aldi and Lidl may be the cheapest supermarkets in the UK, they also had the highest inflation rates. According to Which?, products at Aldi had the highest level of inflation – up 19.6% in the month to November 30 2022. However, despite this, the experts mention that Aldi and Lidl astonishingly remain the cheapest supermarkets in the UK.
How to Deal With Price Rises
With all of us facing price increases in almost every part of our lives, it helps to be savvy. If you're smart about how and where you shop, you can make some serious savings on your next grocery shop.
Start by checking what you already have in your cupboards. Chances are, you have some tinned or canned foods somewhere deep within the draws or cupboard that you've forgotten about.
We also recommend using vouchers, discount codes or cash back when you shop next time. This is more for those shopping online. For more information on how you can save using coupons, cashback sites and vouchers, visit Money Saving Expert's dedicated page for coupons.
If you're popping into a certain supermarket often, be sure to sign up to their loyalty or reward scheme. It may not seem like a lot at first, but points can rack up pretty fast if you remember to scan your loyalty or rewards app/card. What's more, customer loyalty is at an all-time high, which means that many supermarkets are customising their apps to offer unique and luring offers for your next shop.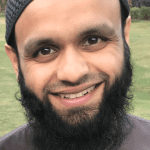 Juber Ahmed is our Digital Editor and travel enthusiast with a keen interest in Islamic history and heritage. He travels with his wife to various places around the world and writes about his experiences.
 
Juber's favourite Quote...
"The World Is a Book and Those Who Do Not Travel Read Only One Page" [Saint Augustine]