INGREDIENTS For cake:
200g (approx. 1 measuring cup) Hellmann's Real Squeezy Mayonnaise*
6 Medjool dates, pitted
200ml water
1 tsp bicarbonate of soda
260g (approx. 2 measuring cups) self- raising flour
60g desiccated coconut + extra for decorating
1 tsp baking powder
120g dark brown sugar
2 tsp vanilla flavouring
2 tbsp milk (optional) For frosting:
100g salted butter
150g icing sugar
100g soft cheese (cream cheese)
1 tsp vanilla flavouring (optional) *suitable for Vegetarians. Not certified Halal.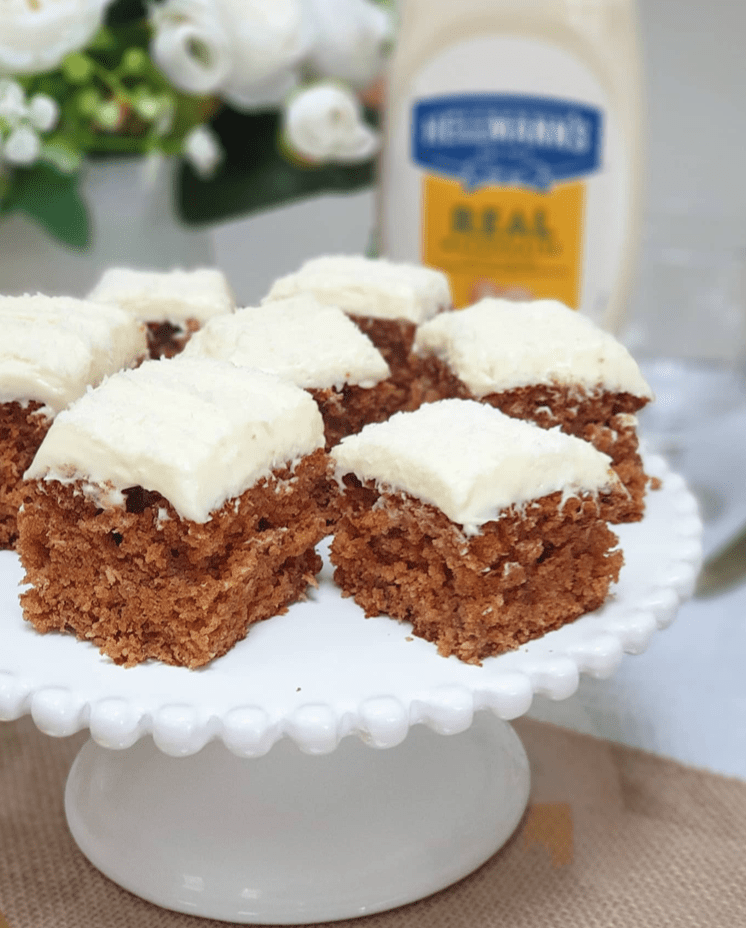 Method:
Pit and cut the Medjool dates into small pieces, place in a pan with the water and bring to a boil. Gently simmer for 5 – 8 mins until the dates are soft and the mixture is almost pulp like. Add the bicarbonate of soda, mix and leave to one side to cool completely.
In a large mixing bowl add the dry ingredients-self raising flour, desiccated coconut and baking powder, combine using a wooden spoon.
In a separate bowl add the Hellmann's Real Squeezy mayonnaise and brown sugar. Beat using a whisk or handheld blender until combined. Next add the vanilla flavouring and cooled date pulp, gently mix again.
Pour the wet date batter into the dry mixture and beat until smooth and combined. Add 2 tbsp of milk if the mixture seems a little dry.
Pour the batter into a greased and floured cake tin measuring 9×9 inches (or roughly this size). Bake in a preheated oven at gas mark 4, 180°C, 160°C fan oven for 30 minutes, or until a skewer inserted into themiddle of the cake comes out clean. Leave to cool once baked.
To make the frosting, cream butter using a handheld blender until pale and fluffy. Slowly add icing sugar and beat until combined. Lastly, add the soft cheese and vanilla flavouring. Mix to combine.
Smother the top of the cooled caked with the frosting and sprinkle some extra desiccated coconut over the top. Cut into squares and enjoy!