It's that time of year again when millions of us are itching our eyes, wiping our runny noses and constantly sneezing! For those of us that have experienced hay fever, we can safely say that it really does ruin the prospect of enjoying the summer season.
Fortunately, hay fever can be managed easily if you know how to. Whether you're already experiencing the symptoms or worried that you're about to, there's a way to ease the pain.
Try Antihistamines
The most obvious solution is to take antihistamines which can be purchased over the counter. We do advise speaking to your pharmacists before buying any, especially if it's your first time. These work by blocking the action of histamines which is what usually worsens your hay fever. Be sure to buy non-drowsy antihistamines.
Eye Drops and Nasal Sprays
You could also try eye drops. Whilst eye drops may not work for some, they have proven to be quite successful for the majority of people suffering from hay fever. Nasal sprays are also highly recommended, as they will help combat things like inflammation, itchy red eyes and swollen sinuses.
Basic Tips
There's no way we can avoid pollen during the summer months, which is why it's best to follow certain tips to manage one's hay fever. The Met Office asked Perrigo – a leading provider of medicines and self-care products – for some advice on the matter and the below tips were provided:
remove outdoor clothing and shower or wash your hair following high pollen exposure
close windows at night
vacuum regularly, preferably with a high-efficiency particle arresting (HEPA) filter in place
avoid keeping flowers in the house.
avoid drying washing outdoors when the pollen count is high or when cutting the grass, as this can bring pollen into the house.
avoid walking in grassy, open spaces, particularly during the early morning and early evening
keep an eye on the weather forecast for information about pollen count levels and avoid going outdoors when the pollen count is Medium or High
install pollen filters in your car if they are not already fitted
drive with windows closed
consider wearing wrap-around sunglasses to stop pollen getting in your eyes when outdoors
For the latest pollen forecast, download the Met office weather app and turn on your pollen notification for daily updates.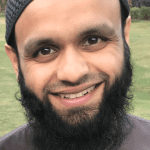 Juber Ahmed is our Digital Editor and travel enthusiast with a keen interest in Islamic history and heritage. He travels with his wife to various places around the world and writes about his experiences.
 
Juber's favourite Quote...
"The World Is a Book and Those Who Do Not Travel Read Only One Page" [Saint Augustine]