"I love to feed people, it runs in my genes." MasterChef winner, Saliha Mahmood Ahmed is intent on bringing South Asian food to a much wider audience – and making it even more healthy at the same time.
The combination is not surprising when you realise that she is also a working doctor and a specialist in gastroenterology. Her latest book is aptly named Foodology – A Food Lover's Guide to Digestive Health and Happiness', which was described by reviewers as being 'a spicy educational treat to be savoured'. It quite simply aims to show how food can influence the way we feel while creating a healthy digestive system, from childhood memories of Indian street food to the pleasure of munching on a jam doughnut.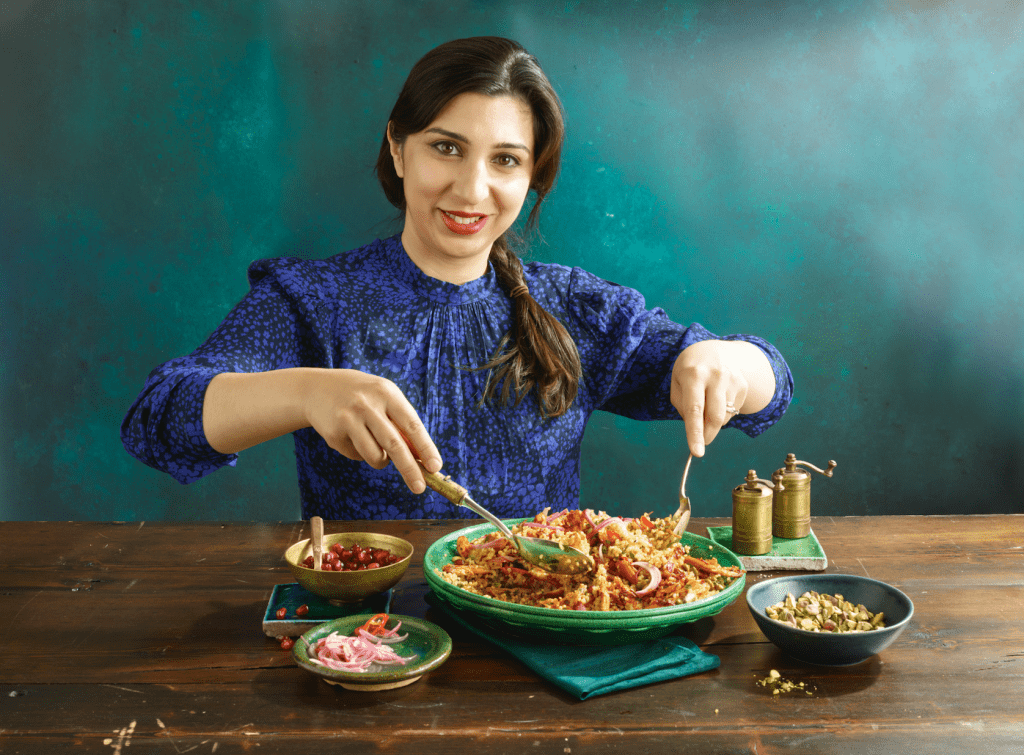 "South Asian food is not always nutritious" Saliha explains. "A lot of the South Asian community suffers from being overweight and my cookbooks aim to encourage more nutritious food."
"I've always cooked a lot of fowl dishes at Christmas time, but until now have not been able to try turkey.' She jumped at the chance when approached earlier this year by Humza Foods, who have just launched the first-ever range of frozen Halal Christmas Turkeys into selected Asda and Morrisons stores. "This was an opportunity to taste something new. I don't celebrate Christmas as a religious festival, but as a cultural celebration with family time. It is a time of respite, a time to step back and relax before the New Year comes. I've always wanted to do turkey, but sourcing halal turkey was difficult.'
"A lot of the recipes I created for Humza have been in my mind for a while. I found myself trying out Christmas recipes on the hottest days of the year, cooking with all the windows and doors open!"
The resultant dishes are very much classic turkey meals with cranberries, sprouts, potatoes but are given special touches such as adding chilli to the roast potatoes. The collection of recipes explains how to cook turkey as well as suggestions for dealing with the inevitable leftovers.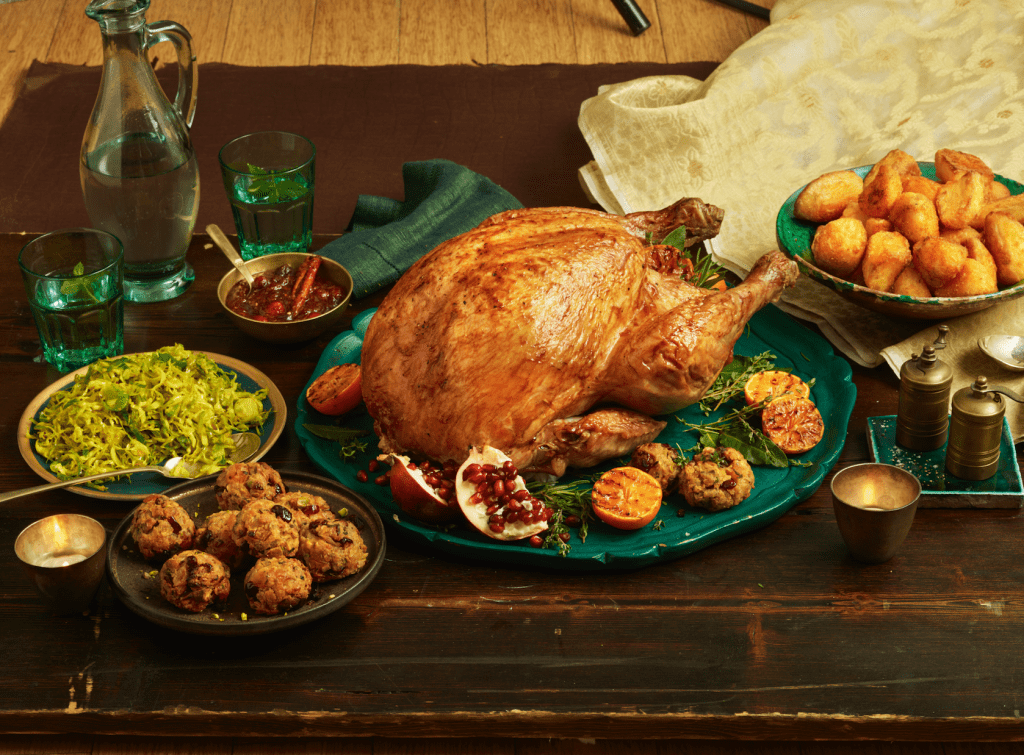 Encouraged to cook from an early age by her mother and grandmother, Saliha's love of food has always played an important role in her life. She had often thought about taking part in cooking competitions, commenting, "I felt women were not represented in national coverage of South Asian cooking.
I wanted to be able to represent my food culture on a large scale."
The eventual decision to apply for MasterChef was actually her husband's idea.  "He said, I'd be good at it.  I was on maternity leave at the time, having just given birth to my first child.
I said 'I'd love to have a go, but not sure if this is the right time as I would be going back to work as a junior doctor soon'. He got the form and filled it in for me. MasterChef did a telephone interview, then I went to London for another interview, and took some of my cooking for them to sample. Then they told me that in a few months' time I would be on the show.'
With the help of her husband, friends and family Saliha successfully managed to combine her commitments as a junior doctor and childcare at the same time as taking part in the competition. Saliha ruefully recalls "At times I was not even cooking properly at home because I was in the show.'
"Apart from winning the competition, the most memorable moments were during the two weeks I spent in South Africa for the show. It was very exciting. We were learning the South African style of barbeque – a braai. We were barbequing out on a game reserve, in a quiet and barren desert-like setting. It was so hot, my face was bright red but it was a really wonderful experience."
With 63 contestants whittled down to the final three, across 7 gruelling weeks of culinary challenges Saliha made it to the final where she had to cook a three-course meal for the judges.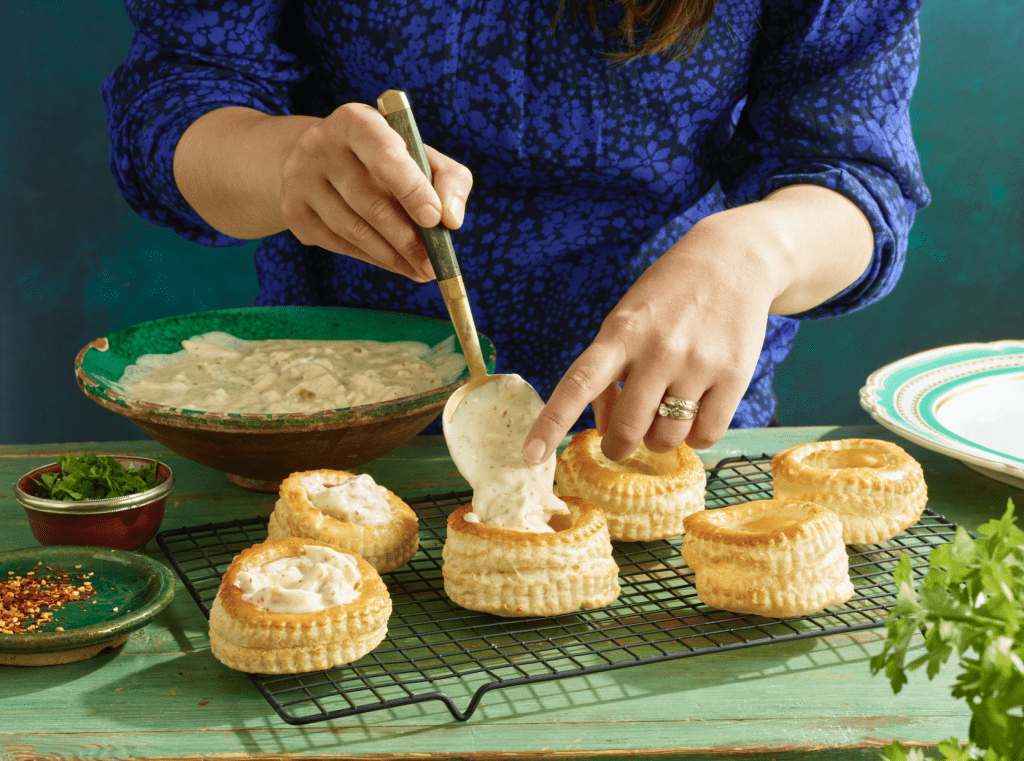 Her menu reflected her love of South Asian cuisine:
Venison Shami Kebab with cashew and coriander green chutney, chana daal and kachumber salad (in memory of her grandmother's home in Pakistan),
Kashmiri style sous-vide duck breast complete with crispy duck skin, freekeh wheat grain, spiced with dried barberries, walnuts, and coriander, cherry chutney, duck & cherry sauce
Saffron rosewater and cardamom panna cotta, served with a deconstructed baklava with candied pistachios, pistachio honeycomb, filo pastry shards, and kumquats.
One of the judges, John Torode commented, "Saliha is a class act. She's walked in here and taken her food culture apart and put it back together in a modern and very exciting way. She always does something a little bit extra – something which always surprises us."
Reflecting on the experience, Saliha says, "Winning made a huge difference to my life. People would come up to me in Tesco and ask about food, talk about recipes. I cooked for the Duke and Duchess of Cambridge, for Jamie Oliver and had the opportunity to write cookbooks. I've been very lucky to have been able to have a secondary food career while working as a doctor."
One aspect of winning that she has really enjoyed is cooking live on TV or for demonstrations. Soon after winning, she was cooking on Breakfast TV creating a meal of lamb meatballs, herby cous cous complete with warm ras el hanout. "The teams are wonderful. There is a production team and home economists all helping. Everything is laid out ready, all the preparation is done and all the cleaning up at the end. All I have to do is cook on set!"
Unlike many MasterChef winners, Saliha has not opted to open a restaurant. While it is something that interests her, she does not feel that the time is right for her. "The opportunity to do MasterChef came at the right moment and was right for me at that time.
A lot of opportunities just come my way, I never know what might appear in my email box," she says.
More cookbooks are likely in the future. Her first book KHAZANA: A treasure trove of modern Mughal dishes came out soon after winning MasterChef. "I have always had a love of Mughal food and I felt it was time to bring more attention to it. The research is fun and I love writing books," Saliha explains. "People enjoy my books and send me pictures of what they have created, especially on social media."
Her recipes have appeared in countless publications such as The Times, Sainsbury's magazine, Optima magazine, and the Good Food Show. She also created recipes such as Bharat spice cauliflower for Islamic Relief as a way of reminding people of the beauty of cooking vegetarian.
Saliha hopes that other women within the South Asian community will be inspired by her experiences.
"You don't have to get involved with competitions if you don't want to. There are lots of ways you can get involved with food, you can write cookbooks, create businesses.
My grandmother was a housewife, widowed early and she developed a small business creating food and selling it in the local community. If you want to be involved in food and cooking, then go for it. There are lots of opportunities."