Words – Anisagrams
Ingredients (adjust to taste)
800g Chicken Fillet Cubed
500g Tomato Passata
2 large Onions Chopped
3 tbls Cooking Oil
2 tsp Fresh Lemon Juice
1/2 Cup Milk
1/2 cup Double Cream
2-3 tblsp Butter
1 tbls Ginger & Garlic Paste
1/2Cayenne Pepper
1 tsp Coriander Powder
1 tsp Chilli Powder
2 tblsp Tandoori Powder
1 tsp Cumin Powder
1tsp Dried Fenugreek
1 Bayleaf
1/2 tsp Garam Masala
Salt & Black Pepper-add to taste
Fresh Coriander Leaves
Method
In a pot add oil and onions and bay leaf, cook onions till lightly golden.
Add the chicken and ginger/garlic paste.Cook the chicken till a little bit of moisture is left, then add in chilli powder, cayenne pepper, coriander powder, cumin powder, tandoori powder, salt and black pepper.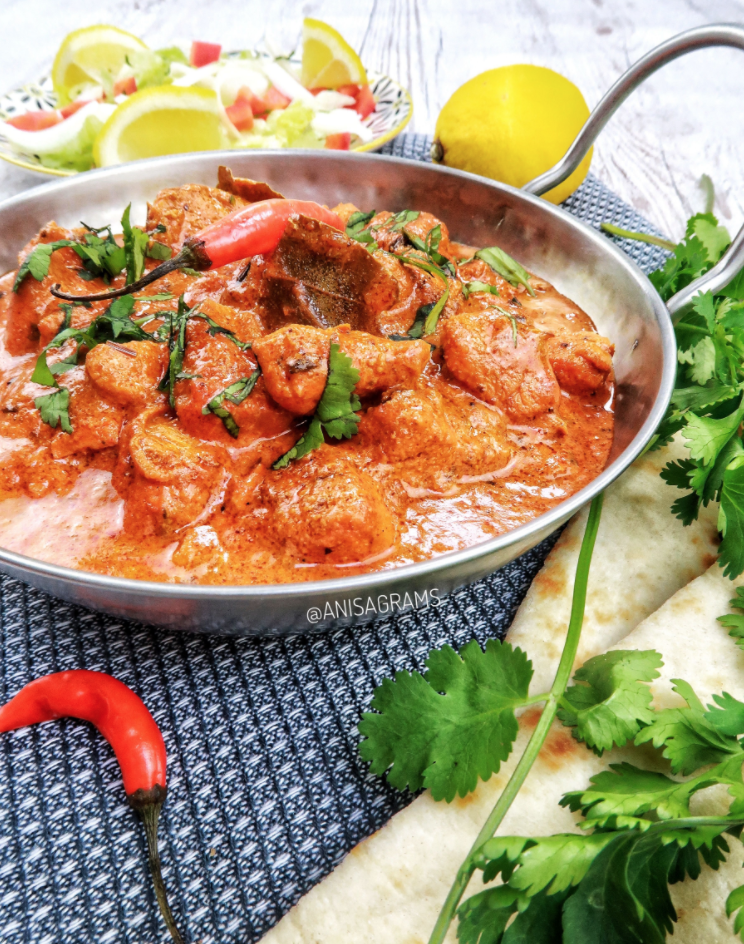 Stir in the spices and then add in the passata and dried fenugreek.Cook on medium heat for 4-5 mins.Pour in water, milk and cream and stir in well.
Add a couple tablespoons of butter, letting it melt through the sauce, before serving. The reason we add the cream is that it gives the extra creamier and smooth texture and consistency we all love in an awesome curry! right?
However you can mix some water to adjust the consistency to how you and your family prefer it.Squeeze lemon, and sprinkle over garam masala and chopped coriander
Enjoy with rice or naan!
By Anisagrams