This deluxe body and soul nurturing treatment is a new detail-oriented experience and is divided into three steps to accomplish the overall elements of spiritual relaxation, stress reduction and improved blood circulation.
Firstly, guests head into the Temazcal to allow the heat to open the pores of the entire body. The Temazcal is an ancient, dome-shaped sweat lodge used by a variety of indigenous groups for purification purposes. The philosophy behind the treatment is a return to the womb to be spiritually separated from the outside world and reconnected with one's inner self.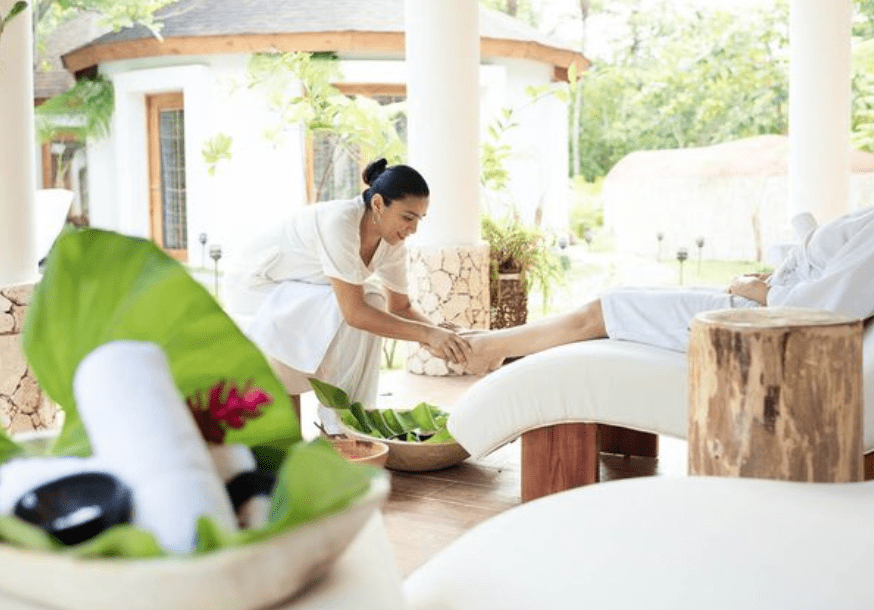 Next, guests are covered in a warm mud treatment, which is left on the body in order to strengthen and revitalise the elasticity of the skin. Whilst waiting for the mud treatment to dry, guests receive a corporal massage, focused on the head, hands and the soles of the feet. Once the mud treatment dries you are then rinsed off by your assigned therapist.
You are finally submerged into an organically prepared coconut milk bath and are left alone to relax. Pre-Hispanic cultures considered these baths revitalizing and necessary to protect the body and soul from negative energies. The coconut milk is rich in vitamins C, E, K, B, and is prepared in-house.
The duration of the treatment is 120 minutes, including additional time allowed for guests to remain in the lounge area.
The unique nature of the Coconut Whispers Spa relies on the effective use of every part of the coconut; from using the outer shell to create exfoliators, to grinding the coconut meat for facials and using the extracted milk for the bath. To complete the full coconut-themed experience of the spa, guests are given a refreshing drink straight from young coconuts, handpicked from the surrounding palm trees.
By Tahira Khan  
For more information visit www.SublimeSamana.com