For a long time now, Saudi Arabia has been developing modern and smart technology to enhance the experience of visitors to the country. Earlier this month, the Presidency of the Two Holy Mosques rolled out AI robots within Masjid al-Haram to help worshippers with a variety of features. 
From Qur'an recitation to delivering sermons, and relaying adhan to weekly schedules, the smart robots are fully equipped for worshippers.
They will also allow users to download services and content directly to their smart personal devices. However, users will still have the option to use the AI smart robot entirely to access information. With voice command abilities, worshippers can now access information about muezzins, imams and the five daily prayers.
The smart robots have been developed and rolled out as part of a wider project to fulfil Vision 2030. Since 2016, the country made itself more accessible to visitors and investors in an effort to boost the economy.
Not The First Time Smart Robots Are Used
The use of AI is becoming an integral part of the country's plans for the future. In October 2017, Saudi Arabia was the first country to grant citizenship to a robot named Sophia.
As plans began for this project in 2016, the smart robots have been launched extremely successfully. This of course means that this is not the first time smart robots are used in Masjid al-Haram. Sheikh Abdulrahman Al-Sudais, Chief of the Presidency of the Two Holy Mosques has already launched and rolled out other such smart robots that deliver fatwas and clean and disinfect areas of the mosque.
In Hajj of 2022, smart robots also enhanced the experience of pilgrims by distributing Qur'ans and cleaning floors. Other robots translated information into 11 languages and provided support to female worshippers. What's more, in December 2021, Sheikh Abdulrahman Al-Sudais also launched a new initiative which allowed Muslims to touch the Black Stone (Hair Aswad) through virtual reality (VR).
Main Image Credit: Interesting Engineering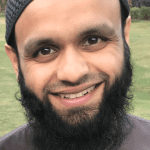 Juber Ahmed is our Digital Editor and travel enthusiast with a keen interest in Islamic history and heritage. He travels with his wife to various places around the world and writes about his experiences.
 
Juber's favourite Quote...
"The World Is a Book and Those Who Do Not Travel Read Only One Page" [Saint Augustine]