INGREDIENTS
Striped Penne Zite 500g
Extra Virgin Olive Basso Oil as much as
Grana Padano PDO grated to taste
Zucchini 1
Red peppers half
Yellow peppers half
Aubergine 1
Chili pepper a red hot one
Ripe tomatoes 4
Garlic 2 pieces
Basil to taste
Salt to taste
Details:
Preparation time:
30 minutes
Difficulty of execution:
low
Number of persons:
for 4 persons
Preparation:
Toast peppers on the flame, peel, seed and cut them into strips.
Wash zucchini and aubergine and cut them into fingers. brown garlic in 5 spoons of oil, pressed it with a fork and take it off, sprinkle the chilly pepper minced, salt and add the tomatoes scalded, peeled and cut in fillets.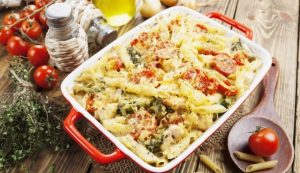 Mix, cover and let to cook for 15 min. n the meantime, boiled the pasta al dente in abundant salted water, dry and season it with a little olive oil.
Pour the pasta in the pot with the vegetables and mixing let top cook for 2 min. then add basil minced, mix and serve.
Courtesy of © Italian Halal Food