Thanks to its many modern neighbourhoods and ancient districts, every year, millions of tourists make their way to the sprawling city of Cairo. Whether it's your first or fifth time visiting, choosing the right neighbourhood can be a challenging task. But make no mistake, past all the narrow streets and bustling traffic, visitors will find a variety of districts to suit any type of traveller.
Don't restrict yourself to the Giza and 6th of October city as Cairo is made up of a diverse range of neighbourhoods. From historic quarters to modern neighbourhoods, we've selected some of the best neighbourhoods for your next visit to Egypt's most ancient city.
Zamalek
Located in Western Cairo, visitors will find Gezira Island which sits right in the middle of the River Nile. While many refer to the entire island as Zamalek, Zamalek is the area in the northern part of the island. The neighbourhood here is more affluent with many ex-pats calling this place home. Being more remote, less crowded and quieter than other parts of Cairo, Zamalek is great for those looking for a more laid-back experience. With a range of hotels, the island is great for those looking for budget hotels as well as luxury five-star hotels. Visitors will also find the Cairo Tower on the island which is great for getting breathtaking panoramic views of the capital. The only thing missing here is a sense of community as the island is not home to many locals.
Heliopolis
The neighbourhood of Heliopolis was once a suburb which has now transformed into a bustling district. Many of the buildings here boast Heliopolis architecture which combines the best of Moorish, Persian and Neoclassical styles. Heliopolis is a huge contrast to Zamalek as its home to larger crowds, local life and the constant sounds of horns. Being more vibrant and energetic as well as close to the airport, many choose this location when starting their trip in the capital as it has great transport links to other parts of Cairo. The only thing to keep in mind is that it may take a while to reach the city or the Pyramids as the traffic here can be a pain!
The Fifth Settlement (New Cairo)
Welcome to the more modern side of Cairo. Referred to as Fifth Settlement and New Cairo, the area was developed to tackle the overspill from the rest of Cairo, which has become densely populated. With superb malls, top-rated restaurants and the well-known Road 90, the area is perfect for families and couples. With smaller crowds and a more relaxed atmosphere, many find this neighbourhood a great place to transition into the energetic parts of Cairo.
Downtown Cairo
Downtown Cairo is the bustling heart of Egypt's capital and is a popular choice for budget travellers who are eager and adventurous. Although chaotic, it seems that the chaos is rather organised. Downtown Cairo will give you a true glimpse of life in Cairo as it's filled with locals, cosy cafes and many ancient sites that make Cairo what it is! The hotels in the area may look unpleasant, but once inside, the buildings reveal a completely different picture. Equipped with modern technologies and state-of-the-art designs, the contrast surprises locals and tourists alike.
If you're looking for action, energy and vibrancy, as well as proximity to some of the city's popular tourist spots, Downtown Cairo is the place to be.
Main Image – Spencer Davis, Unsplash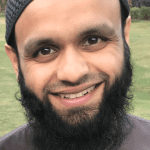 Juber Ahmed is our Digital Editor and travel enthusiast with a keen interest in Islamic history and heritage. He travels with his wife to various places around the world and writes about his experiences.
Juber's favourite Quote...
"The World Is a Book and Those Who Do Not Travel Read Only One Page" [Saint Augustine]