Bangkok is a melting pot of different cultures, backgrounds, and cuisines. With millions of people visiting every year, it lives up to its reputation of being one of the most interesting places in the world. Being the capital of Thailand, there's usually a range of activities to keep the most excited tourist busy. But it can be difficult to narrow down your choices in such a bustling city. To simplify things, below we've listed five of the best things to do when in Bangkok: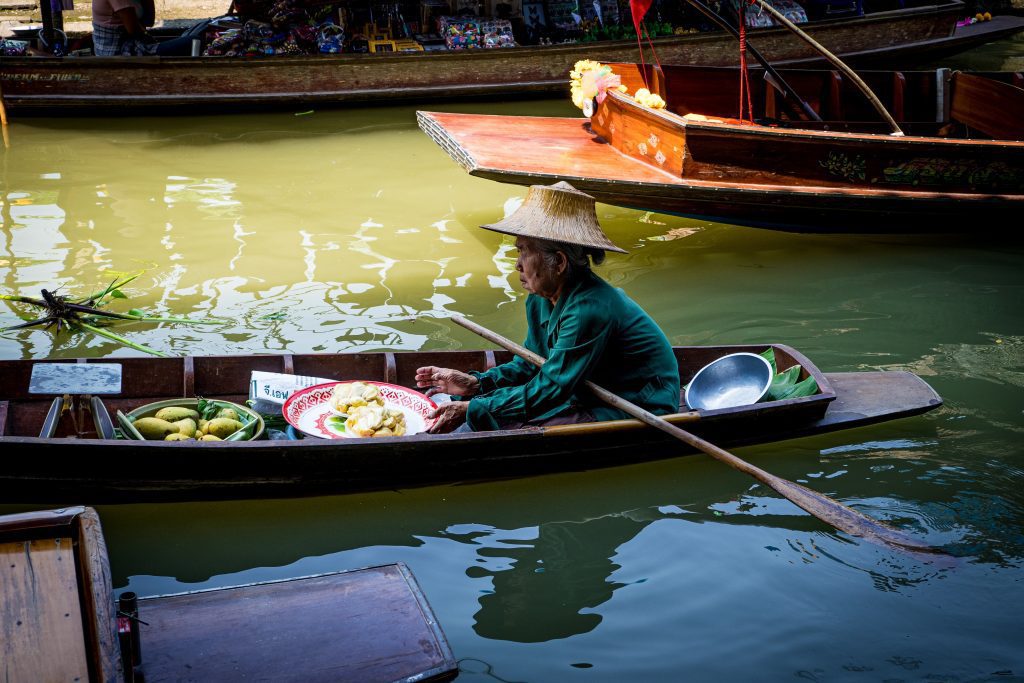 Floating Market
If there's one thing Bangkok is famous for, it's the many floating markets scattered in and around the capital. Floating markets have fast become a tourist hotspot, thanks to the unique atmosphere of shopping from a boat. I mean, where else can you buy a snack from a boat passing by? Whilst it can take a while to reach some of the best floating markets, and prices can be rather expensive, where else will you get the opportunity to do something like this? There are many floating markets in and around Bangkok, but we recommend the Damnoen Saduak Floating Market. Regarded as the most popular floating market in Thailand, the place packs a punch when it comes to the atmosphere, food, and people. Filled with locals and tourists, many start as early as 5 AM to watch the sunrise and experience Thai culture at its best.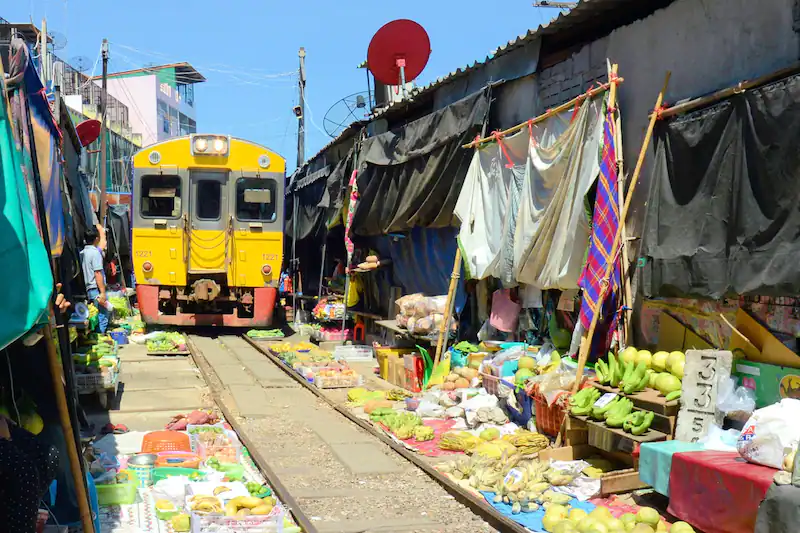 Maeklong Railway Market
Located around 80kms from Bangkok, visitors will find the Maeklong Railway Market. This market is unlike any you've visited before. Several times a day, vendors that have their stalls set on the train tracks, have to lower their umbrellas and move their products to allow the train to pass. It's a fascinating yet bizarre sight to see the thriving and jam-packed market transform into a normal train track. Tourists and locals fill the place, eagerly awaiting the train to pass. Once it passes, umbrellas are raised, products are laid out and customers are once again free to walk along the train track. The market is also one of the largest seafood markets in Thailand and a great place to grab some fresh produce.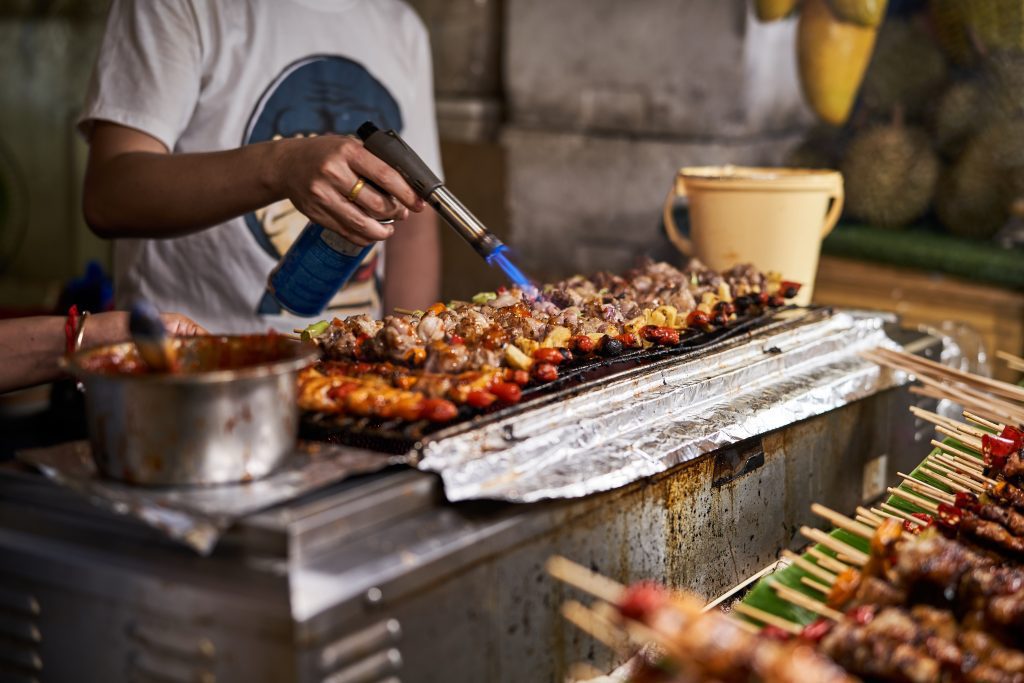 Devour Street Food in Bangrak
It's true! You haven't truly eaten Thai food until you've eaten on a street in Bangkok! The natural and organic flavours are mixed to provide a diverse range of dishes ready for every foodie! One such place that does street food best is the Haroon Mosque area located in Bangrak. Every Friday, locals set up street food stalls outside their homes from 10 AM – 2 PM. From Gaeng Gary (Thai chicken curry) to Khao Mok (Thai Biryani) and Roti Mataba (flatbread with minced meat) to Khanom Soyi (Thai Pudding), the street food you find here will keep you satisfied.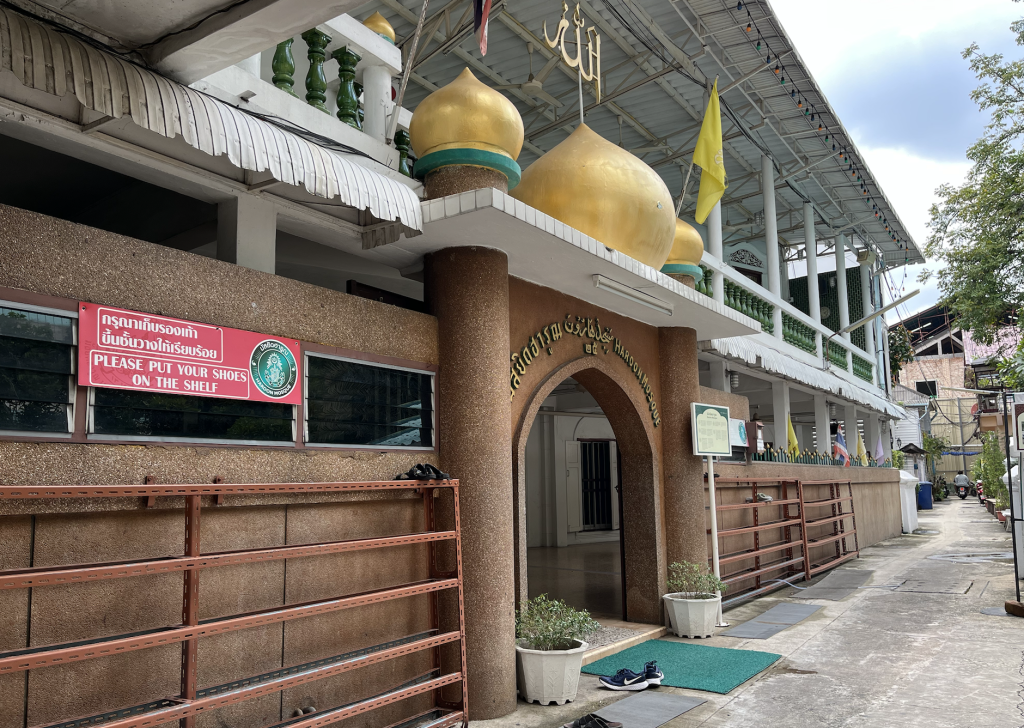 Visit One of The Many Mosques
Bangkok is steeped in Islamic History, which is why it makes for the perfect Halal travel destination. Muslims make up Thailand's largest religious minority, mostly living in the southernmost provinces of Narathiwat, Pattani, Yala, and Satun. But many have made their way up to Bangkok to take advantage of urban living opportunities. There are over 170 mosques in Bangkok, with the oldest dating back nearly 400 years. The Ton Son Mosque is believed to be the oldest and was constructed in 1628. Across the canal, you can also find the Bang Luang Mosque. Constructed with a Thai influence, it dates back to the 1700s.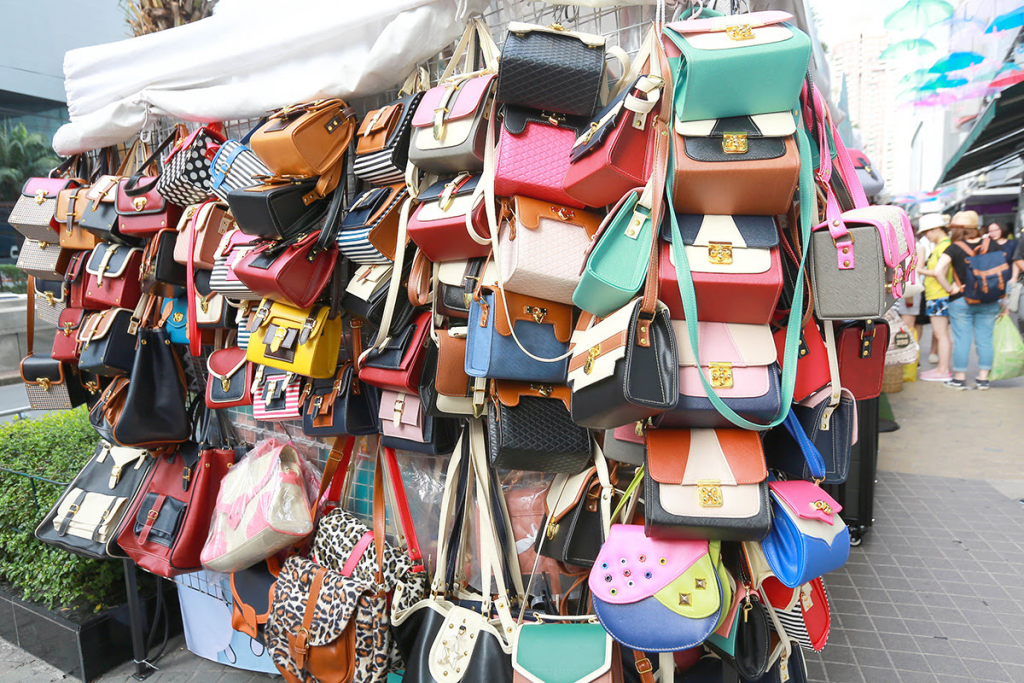 Find a Bargain at Pratunam Market
This is the place to be if you're looking for Thai street food and superb deals on clothing and footwear! Being one of the major markets in the city, here you'll find all kinds of clothes and shoes at wholesale prices. Haggling is welcomed within the maze-like streets that are filled with cheap and colourful clothes. But it's not just about shopping here in Pratunam Market; visitors will be able to see a local way of life at its finest. Pratunam Market is the best place to witness how people shopped decades ago, from vendors pushing trolleys to locals haggling. 
Main Image Credit: Miltiadis Fragkidis (Unsplash)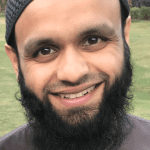 Juber Ahmed is our Digital Editor and travel enthusiast with a keen interest in Islamic history and heritage. He travels with his wife to various places around the world and writes about his experiences.
 
Juber's favourite Quote...
"The World Is a Book and Those Who Do Not Travel Read Only One Page" [Saint Augustine]