Whether you're looking to become physically active, be more mindful, become financially literate or simply feel more content, our list of health and wellness books will provide guidance, relief and answers.
I mean what can be better than reading words that someone wrote with such thoughtfulness, care and love? Books are timeless, and many times, reading can be therapeutic when you finally stumble upon something you've been searching for your entire life. With a more holistic approach, books can provide you with personal experiences, personal care tips and planners.
Many years ago, health books were predominantly focused on physical health. However, as time has gone on, many authors have realised the importance of books on mental health and wellness as well as financial health. With financial concerns causing much distress, being educated and informed on how to approach money, debts and finances can go a long way in maintaining your physical and mental health.
To make our list inclusive, we've listed books that cover physical, mental and financial health. If you're looking for extended support and insight coupled with wisdom, the list of books below makes for excellent reading. If you know someone who is going through a rough patch, these books might even make for excellent gifts!
Find Your Financial Freedom by Logan Rankin
Author Logan Rankin gives readers tips on how to retire early as well as financial dos and don'ts. If you're interested in financial freedom and want to feel more secure about your money, this book is a great read.
Atlas of The Heart by Brené Brown
According to reader Tomas Mila, "This book is like a textbook for being human." Referred to as an 'emotions dictionary by many, this book has helped many therapeutically navigate their feelings and experiences. Readers will travel through 87 emotions and experiences that make us human and will also be provided with tips for meaningful connections.
Thrive: The Third Metric to Redefining Success and Creating a Life of Well-Being, Wisdom, and Wonder by Arianna Huffington
The great thing about Thrive is that it not only focuses on financial success, but it also discusses matters related to health. With insight into the author's life, the book aims to shed light on well-being; a metric which very often goes unnoticed. 
The Body Keeps The Score by Bessel A. van der Kolk
Trauma often stays with us, unless we find a way to address it. This book, authored by psychiatrist Bessel A. Van Der Kolk, focuses on why we should address trauma sooner than later. The book also aims to help us understand the damages caused by ignoring our trauma. 
Atomic Habits by James Clear
Bad habits are common among us, and not wanting to change or confront them will take us down a slippery slope. Atomic Habits is just about that. With clear steps and guidance, the author helps readers achieve their goals by making necessary changes and creating new habits.
Breath: The New Science of a Lost Art by James Nestor
How much do we focus on our breathing? Are we breathing correctly? Author James Nestor answers this and many other questions as it focuses on how we breathe and why it's an essential part of our well-being and health. The book's main aim is to make readers realise the importance of mindful breathing and how it can allow us to regain control. 
Deskbound (Standing Up To A Sitting World) by Kelly Starrett
With most of us sitting for large parts of the day, it can be easy to forget the harm it causes us. From obesity to depression and even cancer (in some cases), sitting for long periods can backfire immensely. Author Starrett aims to shed light on the importance of getting up by sharing tips on creating an active work area.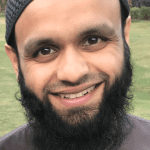 Juber Ahmed is our Digital Editor and travel enthusiast with a keen interest in Islamic history and heritage. He travels with his wife to various places around the world and writes about his experiences.
Juber's favourite Quote...
"The World Is a Book and Those Who Do Not Travel Read Only One Page" [Saint Augustine]