Supported by Good Earth Part of the V&A India Festival 3 October 2015 – 10 January 2016 www.vam.ac.uk/fabricofindia | #FabricofIndia The Fabric of India will be the first exhibition to fully explore the incomparably rich world of handmade textiles from India. From the earliest known Indian textile fragments to contemporary fashion, the exhibition will illustrate the technical mastery and creativity of Indian textiles and will be the highlight of the V&A India Festival. Celebrating the variety, virtuosity and continuous innovation of India's textile traditions, The Fabric of India will present approximately 200 objects made by hand.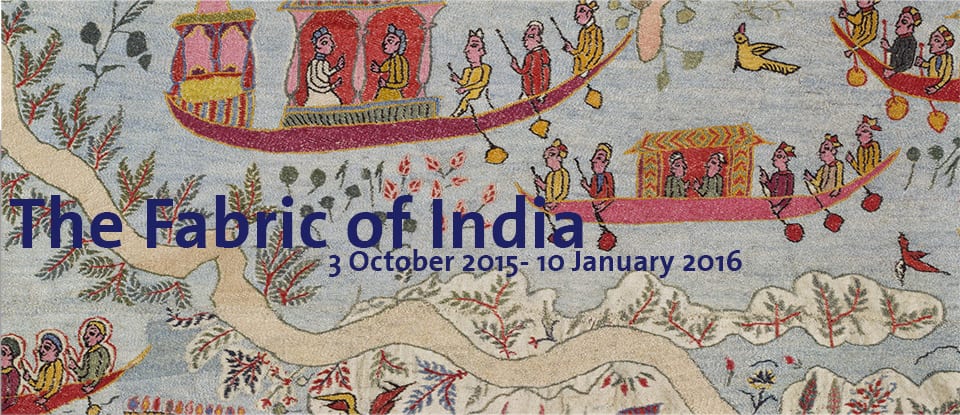 On display will be examples of everyday fabrics and previously unseen treasures; from ancient ceremonial banners to contemporary saris, from sacred temple hangings to bandanna handkerchiefs, to the spectacular tent used by Tipu Sultan (1750-1799), the famed ruler of the Kingdom of Mysore. The exhibition will offer an introduction to the raw materials and processes of making cloth by hand. Displays of the basic fibres of silk, cotton and wool will illustrate the importance of India's natural resources to its textile-making traditions. The opening section will reveal the process of using natural dyes such as pomegranate and indigo and the complex techniques of block printing, weaving and embroidery across the ages, together creating a visual compendium of India's astonishingly diverse array of fabrics.
Highlights will range from muslin embroidered with glittering green beetle wings, sequins and gold wire, to a vast wall hanging appliqued with designs of elephants and geometrical patterns, to a boy's jacket densely embroidered with brightly coloured silk thread and mirrors. Wealth, power and religious devotion are all expressed through textiles, and the exhibition will examine how fabrics were used in courtly and spiritual life. Sacred fabrics created for temples and shrines would employ the best of available materials and highest levels of craftsmanship. Examples on display will include a Hindu narrative cloth in silk lampas weave, depicting avatars of the deity Vishnu dating to around 1570; a 16th-century Islamic talismanic shirt inscribed with verses from the Quran in ink and gold paint; a Jain panel embroidered with silk thread and an 18thcentury Crucifixion scene made in South-East India for an Armenian Christian church. This section will also explore the range, opulence, scale and splendour of objects handmade for the rich and powerful courts of the 17th centuries. Fine hangings and large floor spreads depicting beautifully flowering plants, used for decoration in the Mughal and Deccani courts, will be shown alongside one of the rarest pieces of Mughal dress and a lavish tent used by the infamous ruler Tipu Sultan.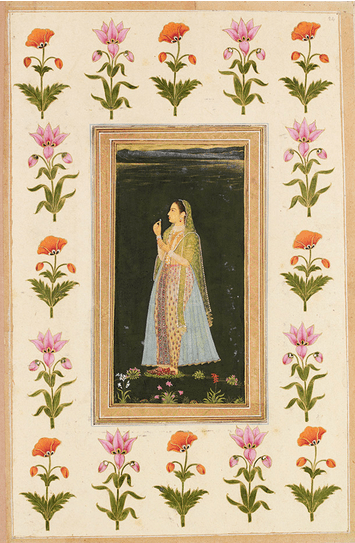 The tent will be fully erected in the gallery, allowing visitors to walk inside it to see the magnificent decoration to be viewed close at hand. The historical and ongoing importance of textiles to the economy of India forms a key focus of The Fabric of India, with the exhibition highlighting the prevalence of Indian cloth around the world over millennia. Indian textiles have long been exported globally, as will be demonstrated by the display of three of the earliest known surviving fragments of Indian fabric dating back as far as the 3rd century.
A range of pieces designed for foreign export will showcase the remarkable ability of Indian artisans to adapt designs and techniques for a wide variety of different markets. Objects including an outstanding block-printed ceremonial textile from Gujarat, made in the 14th century for the Indonesian market and treasured as an heirloom piece for many centuries, and examples of simple handkerchiefs known as bandanas from Madras and Bengal, pervasive in the 18th and 19th centuries in the Middle East, West Africa and Britain, will demonstrate the wide variety of uses of exported Indian fabric.
The global export of Indian textiles became particularly evident in Europe between the 17th and 19th centuries through the popularity of chintzes. A grouping of a beautiful wall hangings, bedcovers, robes and dresses featuring chintz patterns will demonstrate how traditional Indian motifs and techniques were reinterpreted to appeal to European consumers. The enormous popularity of such cloth will be illustrated through a display of bed-hangings originally belonging to the Austrian Prince Eugene (1663 – 1736), proof that Indian dyed cotton fabrics were coveted at the highest levels of European society.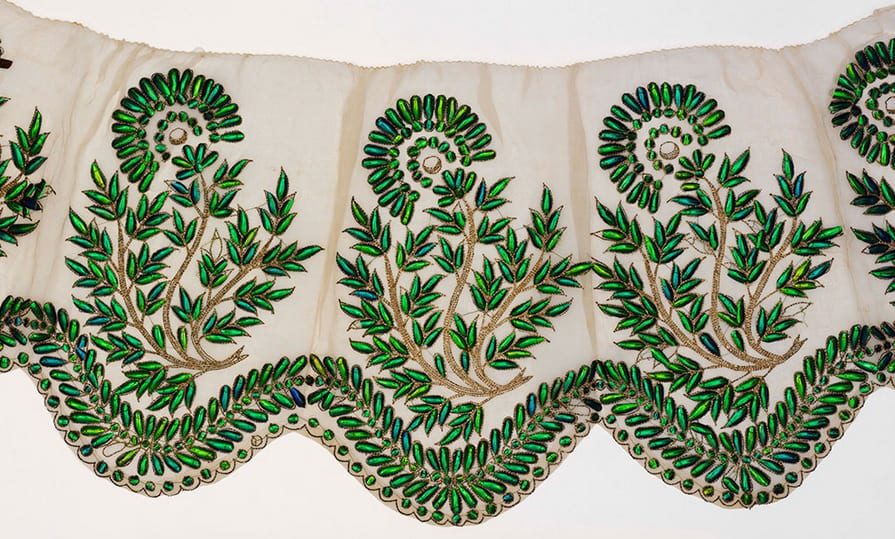 The exhibition looks at the changing world as European industrialization threatened to eradicate Indian handmaking skills in the 19th century. Imitation versions of India's cloth could be made at lower cost, particularly in British mills, and these fabrics were then imported to India, flooding the market, radically altering India's textile economy and threatening hand-made production. Lengths of cotton and simple garments created from European-made materials will be on display to illustrate the phenomenon. It will go on to reveal the consequences of this exchange, illustrating the way in which European developments in industry provoked a resistance movement which saw textiles take on an important role in the development of Indian nationhood and identity.
The Swadeshi ('Homeland') movement called for Indians to stop buying foreign goods and support indigenous production. By the early 20th century, Indian textiles became a major symbol of resistance to colonial rule, and in the 1930s Mahatma Gandhi further compounded this by asking Indian people to spin and weave their own yarn and fabric by hand, to produce a cloth known as Khadi. Wearing, spinning and weaving Khadi became a political tool of the Independence movement. The Fabric of India will display a selection of contemporary clothing using Khadi, showing that its symbolism remains relevant to this day.
The final section will explore India's dynamic fashion industry and its continuity of India's textile traditions. Many Indian designers are using handmaking techniques in imaginative ways and innovative designs by Manish Arora, Abraham and Thakore, Rahul Mishra, Rajesh Pratap Singh and Aneeth Arora will be on display. The sari, the traditional dress of India, has been embraced in recent years by contemporary designers as an opportunity to combine innovative design with a uniquely Indian identity. A selection of the most exciting saris being produced today will be shown as a vibrant finale to the exhibition.