"Love is in the air in Westbourne Village, Bournemouth!"
Love is definitely in the air in Westbourne Village in Bournemouth! In conjunction with the Westbourne Coastal BID Businesses and the Westbourne Trader's Association (WTA), the Village is launching a spectacular Valentines competition with the opportunity to win an amazing VIP Westbourne Experience, worth £1,000, to be enjoyed on Valentines weekend.
In order to enter people have to nominate their partner and describe in less than 250 words how they met. WTA President, Steve Taylor, said, "We are keen to hear of any unusual, quirky or romantic stories about how a couple met. I am sure that we will receive a real diverse mix of entries and stories. It never ceases to amaze me to hear how couples have met in different places, situations and often random chance encounters!"
Steve enthused, "The lucky couple will experience an amazing VIP weekend in Westbourne Village and their winning package will include a two night stay in the award winning vintage boutique B & B, The Living Room, on Alumhurst Road in Westbourne where on arrival in their room will receive champagne and chocolates, courtesy of Marks & Spencer Food "
Steve continued, "Saturday 14th February will start with a leisurely romantic breakfast, fuelling up for a very special day of pampering and treats!
First stop for the romantic duo will be a visit to Fab Frocks, award winning Special Occasion Boutique, and Baks Menswear Store where the winners will be able to choose a dress up to the value of £200 and a shirt and trouser outfit.
The treats shall include early afternoon Dorset cream tea at the vintage style tea rooms, Dot.Teas. The pampering will continue with full body massages at Aphrodite Beauty Salon followed by a wash and blow dry and Jessica Manicure for the lady and for the man a hair- cut, eye brow tidy and mini man facial at Simone Thomas Salon.
Hand- picked Valentine's Day chocolates shall follow at Chocol8 and an opportunity for the couple to each choose a book of their choice at Westbourne Book Shop. A romantic bouquet of flowers will be presented to the couple at By Arrangement Florists.
Finally the couple will enjoy a romantic, candlelit meal in the quirky and beautiful Plates & Co Restaurant which is located in a former church in Westbourne, the perfect setting to end a romance packed day."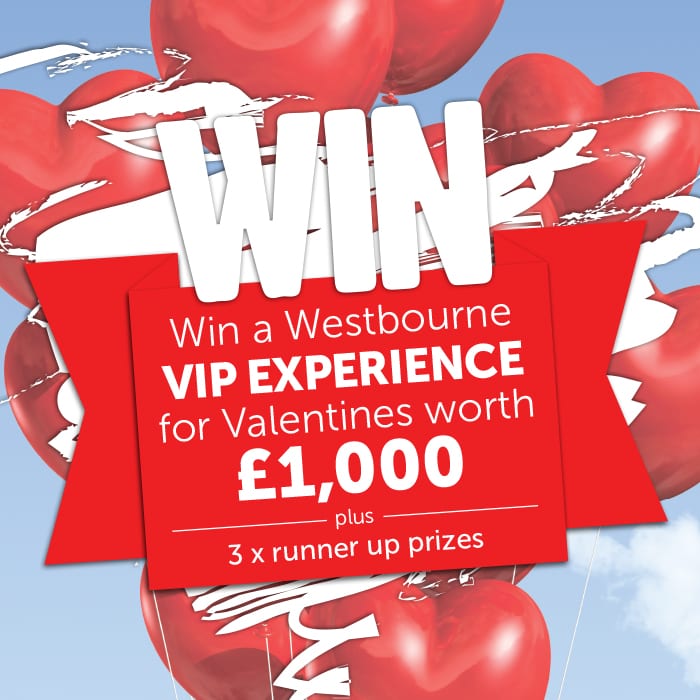 Steve concluded, "This is an incredible opportunity to win this unique prize. We are urging couples to make the romantic gesture to their partner and enter and also to spread the word about the competition. Our winners could be from anywhere! The pampering prizes might vary slightly depending on whether the winners are a straight or gay couple. We look forward to receiving your entries!"
Entry to the VIP Westbourne Valentine Experience can be made by visiting the web site www.discoverwestbourne.co.uk/love or posting and tagging your partner on Facebook.com/discoverwestbournebournemouth Full prize details and conditions can be viewed online.
Westbourne is a stunning, Victorian suburb of Bournemouth which offers a unique shopping experience for customers who are disillusioned by the carbon copy high street and boasts a thriving hub of mainly independent, individual and quirky shops, bars and restaurants.
Westbourne is located less than a mile from the 7 mile stretch of award winning beaches which go from Hengistbury Head to Sandbanks in Poole. A leisurely walk from Westbourne through the beautiful Alum Chine will bring you out at Alum Chine Beach which has amazing views out over the Solent and across to the Purbecks. It is one of four Bournemouth beaches that holds a Blue Flag Award, an international award given to beaches that are exceptionally clean and environmentally friendly. Next to Alum Chine beach is a sub- tropical garden which due to the benign micro climate along this part of the UK coast, it is possible to grow many exotic species of plant and tree that would normally be only found in a more southerly latitude.
Competition closes on the 8th February 2015.