Omid Djalili's fascinating story begins with an unconventional childhood spent at his family's London guesthouse for visiting Iranians. At school he is kept busy with the beginnings of a passionate love affair with football but he hopes one day to live a more intellectually fulfilled life. For one wonderful summer in California it seems that maybe he will find his spiritual home at UCLA.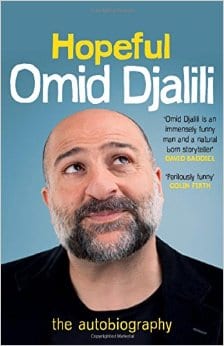 Sadly his exam results don't quite hit the mark (it's difficult to study astrophysics at one of the world's top universities without O-level maths) and so, ever hopeful, Omid returns home to spend the next three years sitting his A-levels again, and again, and again.
Eventually, in a moment of madness, he concludes that the best way to achieve the desired A-level results is to 'improve' his certificates. Travelling to the university of Ulster he finds true connection and relaxing solitude despite the backdrop of Northern Ireland at the height of the Troubles and nearly being killed by paramillitaries. Here he decides that a life in show business is the only secure option he has left, and what follows is a hilarious and captivating insight into the life of a young performer who embraces his cultural identity, works harder than anyone else, and doesn't give up until he has hung out with Brad Pitt in Morocco, injured himself severely while showing off in front of Kate Winslet, and shared an 'intimate moment' with Oliver Reed in Gladiator.
Full of the warmth and intelligence that makes Omid such a successful comedian and sought-after actor, this memoir takes us on a joyously vivid journey through an unusually British life.